When it comes to organizing a home office, productivity and efficiency are always top the list. Wildly colorful spaces can sometimes feel overly distracting, while sleek and minimal can verge on being unmotivating. To get a little more clarity on some of the best practices for making our spaces productive and efficient, we rallied the help of productivity pros and professional organizers Rachel Rosenthal and Laura Cattano, to guide us through how to stay organized while working from home. Read on to see their best tips.
How is working from home changing how we live?
These past 18 months have been such an interesting change for so many people, says Rachel. The world used to go out every day for work but everything happens from home now. This can be both exciting (hello yoga pants) and daunting as it brings several problems.
You will face the issue of physical clutter and challenges with time and the ability to separate work and home life in WFH. As we have worked with clients over the last year we have seen an incredible increase in the desire to create and/or organize a work from home station. Everyone's homes didn't suddenly get bigger when they started working from home so we have had to be creative in the way we use space.
As more and more people continue to work from home and companies allow or encourage remote work, I see people putting a strong emphasis on creating functional and organized work from home setups. Whether this means people moving to larger homes with the option for a dedicated workspace (we have seen so many people moving over the past few months) or perhaps prioritizing a work-from-home setup over something like a dining room. Working from home truly emphasizes the importance of creating functionality in your home and not just focusing on the aesthetics.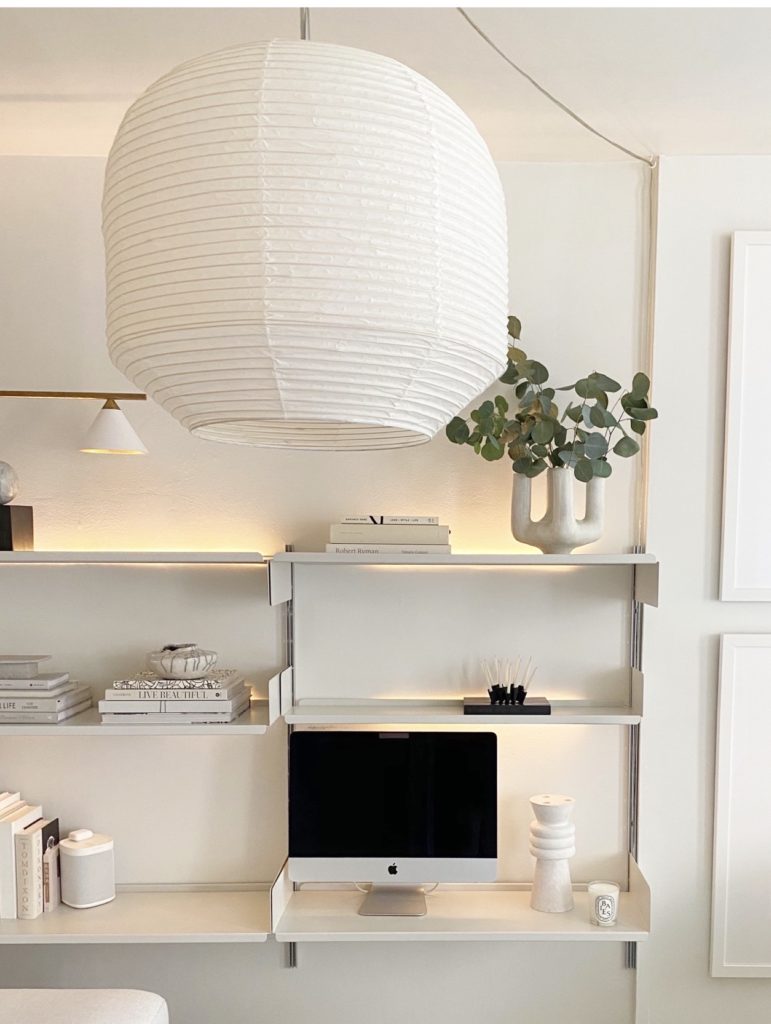 According to Laura, working from home, especially for those who didn't previously carve out a dedicated workspace, has blurred the lines between work and personal time which is incredibly draining mentally. It has positively shifted many people's perspectives. So many of my clients and friends are realizing how much they don't need to live; either from leaving town and being away from their things OR being home and actually SEEING and interacting with what they have.
They finally see how overwhelming and unnecessary so much of it is. A mantra of my philosophy is 'if something isn't adding to your life, it's directly taking away from it'. The way people see how they spend their time is also shifting. While most people will eventually go back to an office, they don't anticipate doing it full time like before. They've seen that having remote meetings is still be productive, saves valuable commute time, and it also gives more time to spend with family, friends, or in solitude. This is a beautiful shift that I hope will be long-lasting.
How should we go about creating an organization plan for a good work/life balance at home?
Routine and structure is the key to creating a healthy work/life balance, according to Rachel. This means implementing working hours, scheduling a lunch break, and maybe even adding reminders to your calendar to alert you of these blocks. However, it is just as
important to remember to keep your work out of your home life as it is to keep your
home out of your work life. Throwing in a load of laundry seems harmless but if someone astrays from task all the time, it will also delay their sign-off time. Whenever possible try to keep work and home tasks during their designated times.
Laura creates CLOSED storage. That helps to keep away the work tools (whatever that means to your work-life), hidden into cabinets, drawers, boxes, so it's out of view is key. Creating rituals around the end of the workday is also helpful mentally. Since my computer is on my bookshelves and I work from living space, after I put away my notebooks and papers, I switch up the lighting and put a small table cloth on my side table as a mental and visual transition to evening time. It gives an immediate sense of calmness.
What are some of your favorite organization products for a good work from home setup?
Paper Management: Even with so much done digitally these days, there is always
still paper to deal with and paper can so easily get out of control. Try utilizing a
desktop file with crisp white file folders to allow an organized space for papers with a clean look.
Don't forget, paper management isn't just reserved for work – you can use this same
file system to keep track of homeschool assignments or bills that you need to pay.
Double Duty: Just about every home office space needs to do double duty so make
sure you are thinking of the functionality of the space for more than just working
hours. If you have a small built-in desk or even if you are using a portion of your dining
room table these days, I suggest utilizing an acrylic desktop mail center to not only
allow for storage of things like scissors and pens but also a spot for mail and keys that
would previously have been strewn on the desk area. For your home office space,
double duty might mean having a drawer or bin of coloring items for your kiddos when
they need a spot for homeschool or perhaps a desktop calendar or bulletin board to
serve as the family's command center.
Tuck Away Space: Every desk needs a way to tuck away notes at the end of the day.
We suggest trying out a desktop drawer to give a space to put a notepad or anything in
the works at the end of the day so it is waiting for the next work day. Ending the day
with a clear workspace will help give your brain the cue to switch to home life
especially if your desk is in the middle of your living space.
Don't forget about digital organization. A lot of jobs these days have little, if any
paper. to organize compared to the old days of file rooms and the bulk of file
management is done online. Set up an organized system to organize both your files
and email to stay on track and ensure you can track down what you need.
Small side tables that incorporate storage are great for those with limited space. These can easily sit next to a chair, sofa, or under a table /desk where you can tuck away papers, notebooks, ipads, laptops at the end of the work day out of view. Both of these options have different height options which suit various needs.- componibili classic colors– componibili pastels – hide pedestal on wheels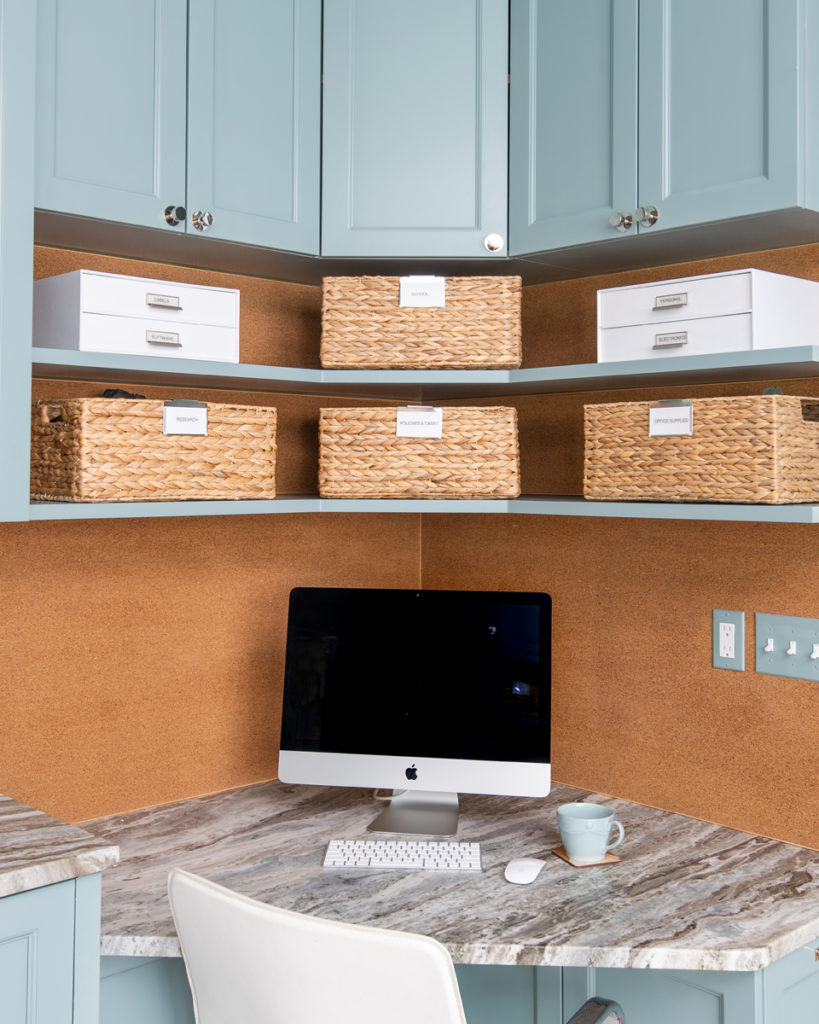 How should we keep the rest of our home organized to maximize our productivity at home?
According to Rachel, physical clutter leads to mental clutter. Giving yourself a clear physical space will not only allow you to do your best work but help you clear up some of that mental clutter that has been created by adding work to your home life. Taking 10 minutes at the
beginning (or end) of your day to declutter your space will allow you to focus and
maintain productivity throughout the day. This doesn't mean you have to break out
the vacuum but just a quick tidy of putting things in the dishwasher, shoes in the
closet and straightening the couch pillows goes a long way.
Store things where you use them is a simple rule that will make life easier, according to Laura. Also, declutter! How many old crappy pens do you need?
Art and decorative items that no longer inspire, old reference books that have no use. Anything whose use has passed, especially those things that are cheap and readily available. I can understand keeping something like custom-sized skis or expensive kitchen tools that are used once a year or maybe in a year or two, but your old microwave from your first apt you keep in case your existing one breaks? ugh.
Eliminating those things gives you room to store the things you actually use in a better way. The experience of opening a closet, seeing what you have, being able to take things in and out without creating a crap avalanche should be the top priority over storing things that may be useful 'someday'.
Why is being organized so important to you?
I founded Rachel and Company in 2007 after attending law school, as I was lacking the fulfillment I had hoped for in a desk job, says Rachel. I have always thrived on organization and am constantly energized by helping others and changing their lives through organization. However, organizing isn't just my work, it is my way of life. In the world today there are so many things outside of our control, but organization helps you create areas of
your life that are in control and predictable. I have seen firsthand in my family how
adding organizational systems can improve your daily life, happiness, and stress level.
Shortly after earning a degree in environmental science, I moved to NYC from Long Island where I was raised, the youngest of five children, says Laura. Not having a clear intention of what I wanted to do as a career, I took an administrative assistant position at the renowned interior design firm Vicente Wolf Associates which opened my eyes to design. It was there I saw my organization skills matched with my innate neatness was actually a marketable skill.
I put it out to the universe that being a professional organizer was my calling. It was a few weeks later (16 years ago) I met my first client while catering a small dinner party at her brownstone. She loved my attention to detail and how seamlessly I ran the evening, she offered me a job as her personal assistant. I informed her I was a professional organizer and I was hired. Referrals led to more projects and my business was born.
For more great tips sign up for Pulled's home management platform and schedule a consultation with an organizing pro today!