Selling your home and trying to get it off the market can seem like a daunting task. It's easy to be overwhelmed when you consider all of the things you have to do. To curate a home that can showcase its best qualities to a prospective buyer, you need an expert for staging your home. While hiring a real estate professional and figuring out a listing price is just the first step, perhaps most important, is to make your home show a potential buyer the opportunities it can offer them and their family. That's where staging comes in.
Staging your space in a way that will be visually appealing to prospective buyers, is an amazing opportunity. This ensures your home appeals to buyers and shows off its best qualities. While this step is often overlooked, when considering all of the other things that take priority, staging expert Kirsten Blazek, founder of A1000xBetter, shares her top tips and strategies to get your home sold fast. If you've ever had reservations that an investment in staging is right for you. Kirsten shares some great reasons why staging can elevate your home to a level buyers will fawn over! Read on to discover all of Kirsten's best ideas!
Sell A Lifestyle
We believe that selling a home isn't just about the house itself, but it is also about selling a lifestyle and a great staging enables buyers to imagine their lives in a house, says Kirsten. We always strive to take a house from being just a "house" to being an actual home. Once a buyer has an emotional connection with a property, they are much more likely to feel invested and ultimately make an offer. We believe we add a soul and life back into an empty house when we stage it!
More Than Just Furnishings
Staging goes beyond just furnishings. Kirsten says, we do a lot of pre-staging renovation work, often taking properties that can seem tired and dated to a point, with some fairly minor fixes, that a prospective buyer feels like the home is no longer a fixer and they can move in and do renovations over time. Pre-staging work often includes interior and exterior painting, landscaping, hardware, and lighting updates, floor refinishing, and as-needed countertops, sink, and appliance change-outs, matching the ambiance. This mini-renovation has an incredible impact on the houses that need some TLC, before hitting the market! 
Choose What's Right For Staging Your Home
If you are unsure whether staging is right for you, Kirsten offers some advice. She says I would say ALWAYS stage, but do your research and find the right company, that can interpret your home's intrinsic character and bring out the very best in it! No one staging company is the right fit for every house and it is important to find the one that feels authentic to you, your neighborhood, and your home. 
Represent A Home's Architecture and Character
Kirsten sees staging as a way to truly represent your home's architecture and character. She says, we truly believe that houses have a soul and character, and believe staging helps represent a home's essence and history. It is always our goal to take our direction from the home, when curating a staging that is a true representation of the history and architecture, but interpreted in a way that feels relevant to the buyer, for that neighborhood. We always put ourselves in the shoes of the buyer. In Los Angeles, we have so many different neighborhoods, that each has a unique aesthetic and lifestyle offering. We use a lot of vintage and found items in our stagings and each staging is completely curated to feel unique. These vintage items help so much, in adding authenticity to each house and ultimately speaking to the history of the home.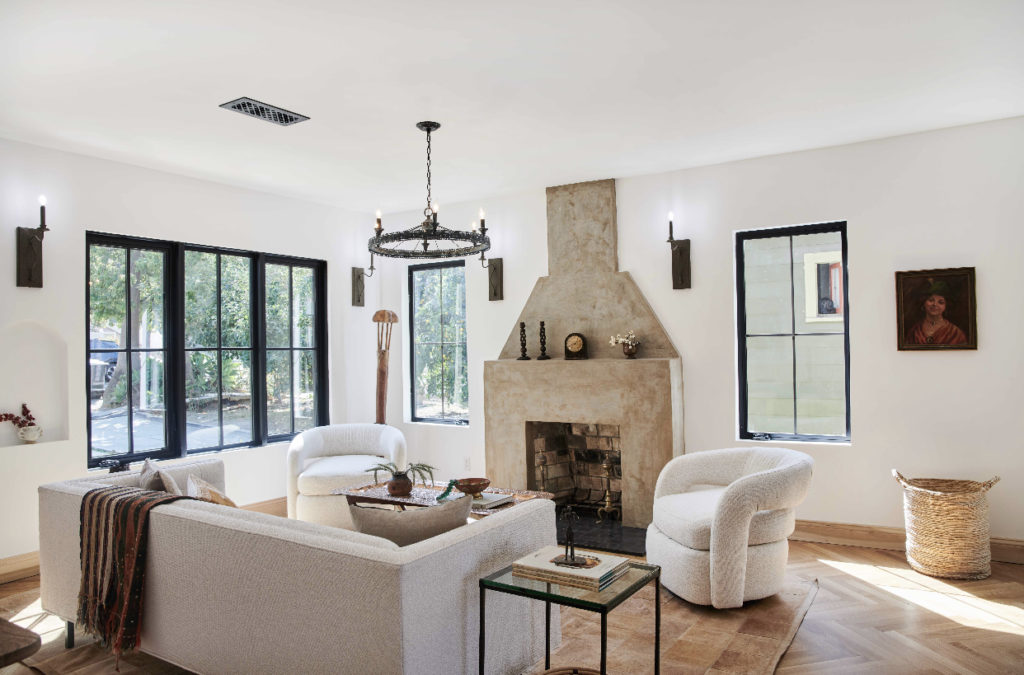 Reveal Lifestyle Opportunities
When displaying lifestyle opportunities, Kirsten says, there is a fine line that you have to balance with staging. You want to show functionality so that buyers can actually see how they will live in your home, but you also should think about photography and how the house will show online and in real life, as buyers walkthrough. Often there are awkward rooms or spaces that buyers may not see how they can be used, so you should always put more thought into these spaces, showing buyers both practical and beautiful ways to use bonus rooms. It's often great to stage garages, especially in cities like Los Angeles, where space is a premium. We like to show buyers that garages can become very useful additional spaces when converted into a Junior ADU or home office. 
Create A Natural And Lived In Feeling
To create a natural and lived-in feeling, Kirsten argues, there are a few key things to do to make sure that a house doesn't feel staged. The most important thing is layering! We use a lot of art, textiles, and other layering items, so that the home feels lived in and the space is appropriately filled with both furniture and accessories. Another item that we find the key to is again, the use of vintage and found items. We want every house to feel like someone who's well-traveled lives there and these key items bring in a sense of a life well-lived and deviate away from the house feeling just staged. Also, we use a lot of fresh plants and flowers. We like to bring in greenery that adds both lives and helps fill space beautifully!