Finding the right nursery décor that fits both your personal style and will create a welcoming environment for your little one, can be a challenging design task. Do you go for calming neutrals, traditional color schemes, or something entirely unique? Interior designer Elizabeth Lawson, recently shared some of her favorite ideas for styling the perfect nursery. Read on to discover all of Elizabeth's amazing tips!
Reflect Your Overall Style
When trying to determine the story your nursery should tell, Elizabeth says, I think a nursery should be reflective of the rest of the home with a similar color palette and style of furniture as the rest of the house. Just because it's a nursery doesn't mean it has to feel juvenile or have a "theme".
Start With A Simple Design Element
While starting a nursery can be a bit overwhelming, Elizabeth has a few tips to get started. She says, I would choose one design element, whether it be a rug or a piece of art, as a jumping-off point. From there, everything else usually falls into place more easily.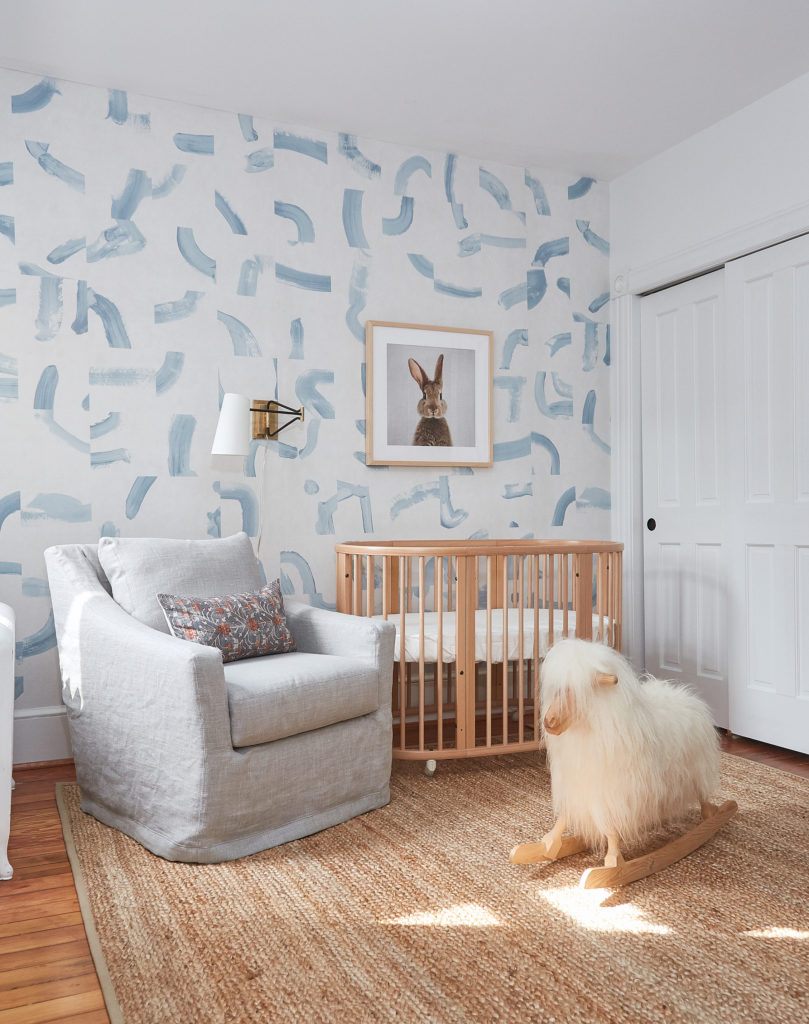 Safety and Functionality Are A Priority
Elizabeth believes there are a few important things to think about when styling a nursery. She says when styling a nursery, not only do you need to think of how it will look, but also, is it safe? Making sure there's nothing that a baby can grab from the crib is key. Also, think about functionality – where will things be kept? Designated places, like a basket, for toys, and a drawer, or bin for diapers/creams, etc. help keep things organized. 
A Soft Color Palette Is Best
I'm partial to muted colors in your perfect nursery, says Elizabeth. You want the nursery to feel calming and not too stimulating, so sticking with a soft color palette is a good idea. 
Choose Furnishings That Will Grow
When it comes to furnishings and storage, you want things that your baby can grow with. Elizabeth says, I'm a big fan of furniture that will grow with baby, so look for a dresser with a detachable top that you can use long after your child is out of diapers. Similarly, a crib that later transitions into a toddler bed is a smart investment.
Consider Lighting For Night Changes
Lighting is very important to think about and Elizabeth has a few ideas. She says, Make sure the light is easily accessible from the doorway for easy access during late night diaper changes. Having a light on a dimmer is also a must. A separate floor lamp by a chair or glider is also nice for reading stories.