Kitchens are often the heartbeat of our homes. They create a central space where we fill our homes with incredible aromas, build our dinners to share as a family, and hone our culinary skills with unique creations. After all, what could be more inspiring than cooking in the kitchen of your dreams? However you choose to exercise your culinary chops, creating the ideal environment is much like perfecting your favorite recipe. Getting all your design elements to play well together and creating a cohesive look, can sometimes be a bit harder than you think, because most of the "décor" is actually built-in.
From selecting a color scheme to choosing the right lighting, backsplash cabinets, and hardware, we wanted to get an expert opinion. That is why we asked interior designer Lori Gilder, to share some of her favorite options that pair best together. Her amazing style and incredible taste, are sure to leave you with some great ideas to think about. Should you decide to upgrade your current space with a few adjustments, or plan your next renovation? Read on to find Lori's amazing tips!
Contrasts Create Depth
According to Lori, creating an interesting yet timeless design story is all about yin and yang. When designing a kitchen, first and foremost it's all about function! Once the overall floor plan and layout are solidified, we then start building the material story. When it comes to designing the custom cabinetry, we like to juxtapose at least two different cabinet materials and finishes that provide some contrast.
Some of my favorite cabinetry combinations are walnut and white, rift oak and white, or two different color tones for the cabinetry. It keeps the aesthetic much more interesting, rather than having a sea of heavy cabinetry all the same color. With that said…2 different cabinet materials require 2 different countertop materials. So within that framework, we will often contrast a darker base cabinet with a medium-toned stone top. It can either be a marble, quartzite or wood surface – lighter-toned based cabinets with a darker countertop material and so on. Typically, we design our kitchen islands to contrast with the cabinetry along the perimeter of the space.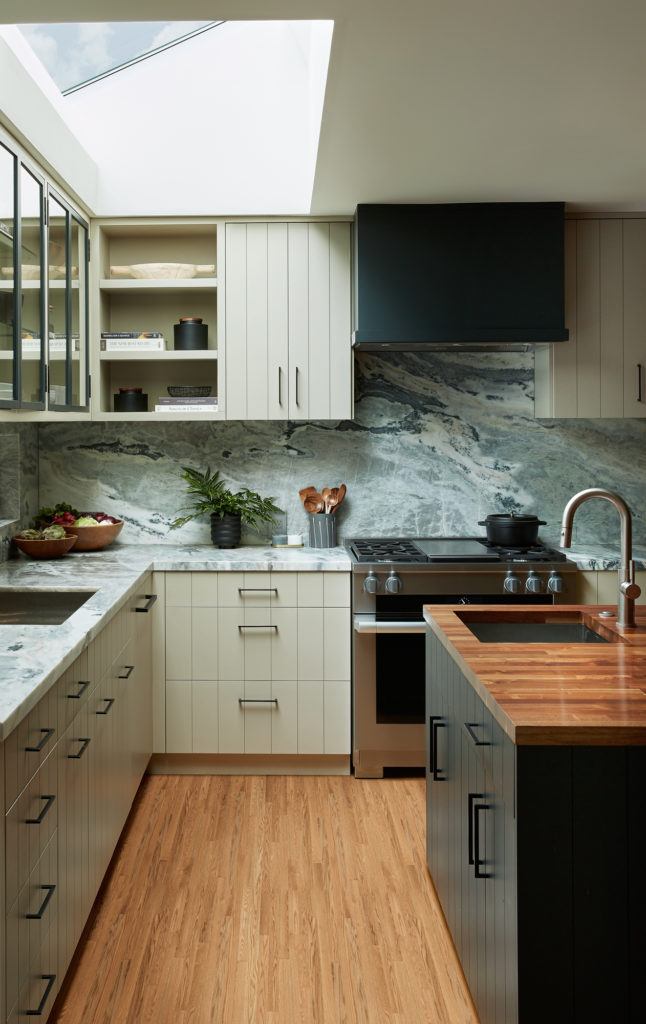 Finishes add Drama and Dimension
Lori says, being a lover of natural stone, we're always on the hunt for dynamic stone slabs with varied tones and movement. It adds drama and sophistication to the kitchen space. In fact, when we install these materials on both the countertop and backsplash, they become an art piece in the kitchen and play off the cabinetry beautifully. Using a continuous and uninterrupted surface on the backsplash, creates a clean architectural aesthetic. Another favorite combo, is pairing and antique mirrored splash, with a beautiful marble countertop top. The reflective quality can enhance the natural light filtering through creating a sense of space as well as highlight an interesting view. We also adore many dimensional porcelain tiles that create architectural relief and texture to the backsplash. With marble, quartzite or new porcelain countertop surfaces, we like it all!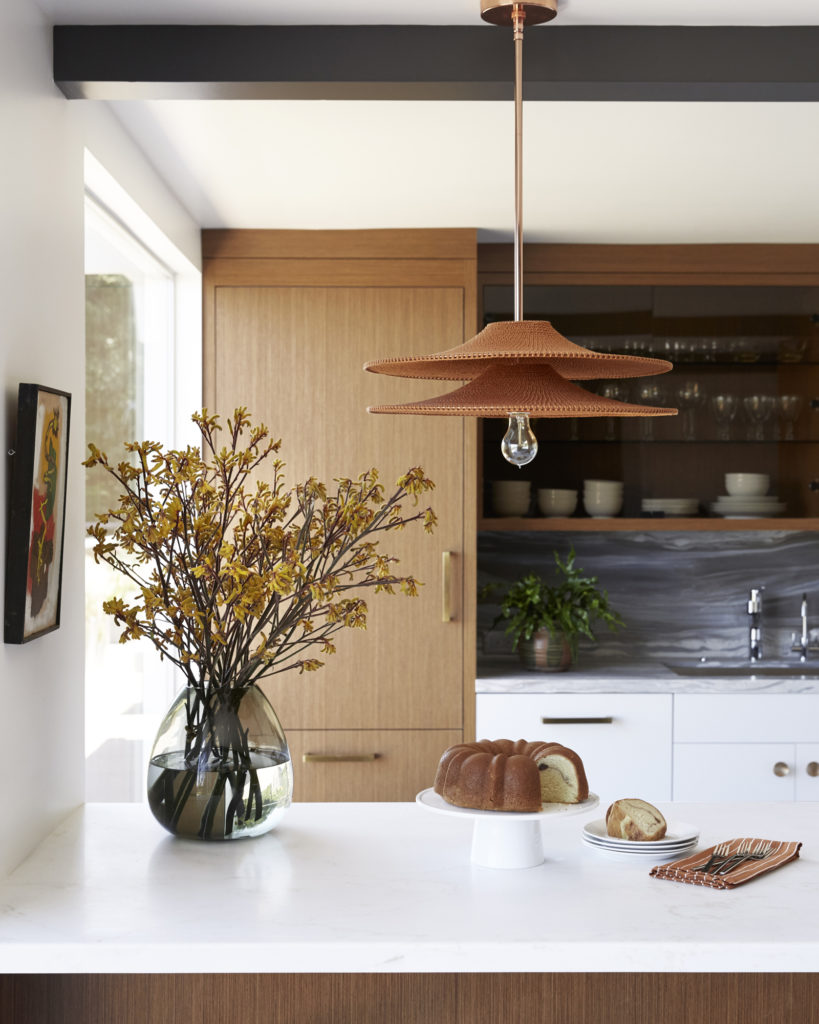 Detail With Color
When it comes to color, Lori says, we like to keep the architectural design elements of the kitchen design – and its color story – full of warm earthy tones and textures. Once those details are established, we will then introduce splashes of color within the seating fabric, runners, throw pillows, art, dish ware, and accessories.
Mixed Metals Bring Sophistication
We just love the contrast of mixing all types of metal finishes in our projects, from cabinet hardware and faucets, to decorative lighting, says Lori. It brings a sophisticated depth and dimension to a space. A combination of un lacquered brass, polished nickel with matte black can be a striking combination.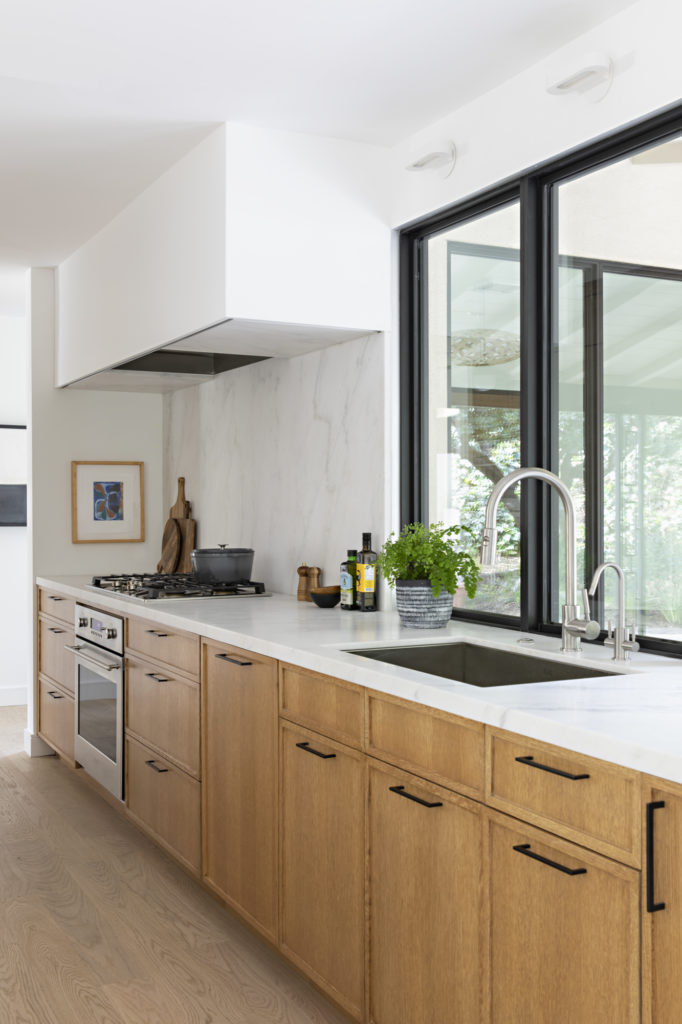 Functionality and Beauty Are One
According to Lori, a beautifully designed kitchen is all about balancing functionality with beauty, without sacrificing one over the other. Functionality and aesthetics go hand in hand. Open shelving, for example, can be wonderful, for easy access to everyday dish ware, cookbooks, or your favorite pottery collections. Glass cabinets with open shelving are beautiful details…as the glass reflects light, frames and highlights personal collections, and provides architecture and form to the space. Creating a beautiful kitchen landscape without sacrificing function is no different than creating any other room in your home. The kitchen isn't just for cooking….it's for living and should be designed as such.