While commonplace cleaning products claim to kill germs and eliminate bacteria, many of these formulas leave a trail of hazardous toxins behind. Furthermore, if you take a look at the ingredients of the cleaning products under your sink, you'll find that most of them contain water as the main ingredient. Fortunately, the market for safe yet effective products is expanding, and a new non-toxic cleaner called Veles brings a different approach, by creating its base liquids from food waste. It creates a safe non-toxic cleaner, that solves not only the growing influences of toxic loads in our homes but also the wasteful use of water from our systems.
Under the leadership of co-founders Amanda Weeks and Brett Van Aalsburg, the New York-based company, has partnered with city waste haulers to collects food waste from corporate cafeterias around Manhattan and deliver it to their Newark facility. You can separate the waste into four usable ingredients—water, acetic acid (the building blocks of a vinegar), lactic acid (an antibacterial agent), and alcohol (a disinfectant)— which then turns into an all-purpose cleaner that's 97% food waste. The other 3% is natural fragrance. We spent some time with Amanda, to learn more about this amazing new brand and learn more about it's unique mission. Enjoy!
Thank you Amanda for sharing Veles with us. Tell us about the inspiration behind Veles?
Veles is part of a broader mission by the startup Ambrosia to valorize food waste. Veles utilizes waste materials (protecting the earth by reducing environmental waste) to make the ingredients in our product (including water). We isolate organic compounds from wasted food to make common chemicals and ingredients, which we formulate into a natural household cleaner. By doing so, we simplify the supply chain and reduce the footprint of sourcing ingredients from other vendors. There is no such creation virtually.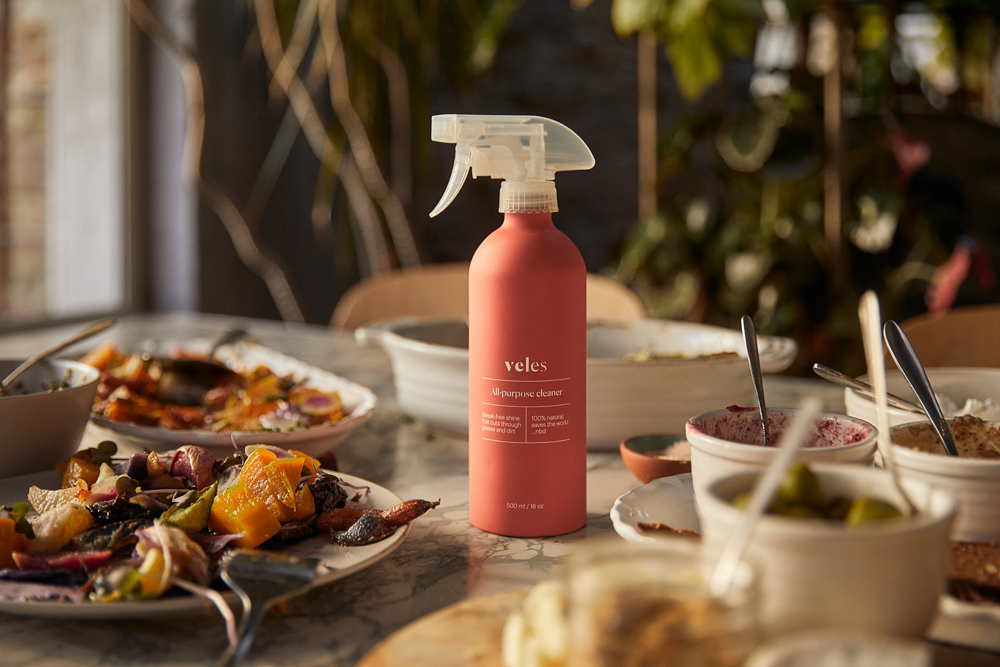 How is Veles different from other non-toxic cleaners?
Cleaners, in particular, are over 90% water. Even with a concentrate, you're adding mostly water. Likely tap water, which goes through an energy-intensive process of being treated for drinking. Not to mention, tap water varies by region which will affect the chemistry of your cleaner. We recover 200 gallons of water for every ton of food we process. It's then filtered and purified, making up the base of our product. Veles is third-party tested and proven to be effective at cleaning soils and contaminants on a variety of surfaces compared to both conventional and natural cleaners.
Tell us more about the unique properties of Veles ingredients? Why is food waste such a big component of Veles?
Food waste is a major component of our waste stream which usually goes to the landfills. When in a landfill, every ton of food waste generates two tons of GHG emissions as it breaks down, making landfills the third-largest generator of methane in the U.S. Methane is a potent greenhouse gas that has greater short-term effects on global warming than CO2. Veles came from our efforts to utilize food waste, both to affect climate change positively and to address the overconsumption of resources used in consumer products.
What are some of your favorite cleaning hacks?
By cleaning with Veles, of course! But I think it really comes down to streamlining your cleaning supplies with multi-surface products. For example, Veles is designed to clean both countertops and mirrors/windows. So, rather than needing a glass cleaner and an all-purpose cleaner, it's one product that can tackle most of your home.
What does the future of Veles look like?
We are working on a suite of products and ingredients for the personal and home care market and beyond.
Awesome! Thanks again Amanda for sharing your exciting new brand with us!
To learn more about Veles and purchase a bottle for your home, please visit their website.