Floyd is a furniture brand that is redefining the market, creating furniture not as a commodity, but instead an opportunity to expand and contract with our lifestyle. Founders Kyle Hoff and Alex O'Dell wanted to solve the problem around the disposability of furniture, with Floyd focusing on the design and experience around the essential furniture pieces of the home. Currently offering a sofa, bed frame, table, shelving system, and now a mattress, manufactured with partners across the U.S., the Detroit-based startup, lets customers build the pieces themselves and expand those pieces as they grow with their space. Their bed frame, for example, expands from a twin size to a king size, while their shelving system expands easily with additional shelves and brackets. Defining a new generation of modern furniture that's "made for keeping" by marrying timeless design and premium U.S. manufacturing, Floyd is creating a new iconic American brand.
We spent some time with the team, discussing everything from their unique creative process to their current collection. Read on to discover all of the amazing benefits this brand is bringing to market!
Thank you Kyle and Alex for sharing Floyd with us. Take us through your creative process. How do you approach a piece?
Every piece of furniture we put to market is developed following a true deep-dive into its use cases, current pain points and more. Very early on in the design process, we survey our customers to crowdsource feedback on specific furniture experiences. As an example, this past summer we launched a modular shelving system. When we kicked off the design process, we started by listening to the needs of the customer (more than 1,000 answered our survey) and dug into what was currently on the market. We found the shelves out there to be underwhelming –– most don't adapt, they have shotty or unattractive connections, tend to lean to one side over time, and are often impossible to disassemble & reassemble. Yet, a bookshelf needs to be so much more. It's the place where we display who we are –– family albums, favorite books, cards, elephant figurine collections… We saw an opportunity to create a shelving unit that would live up to the sacredness of the items we know our customers will use it for.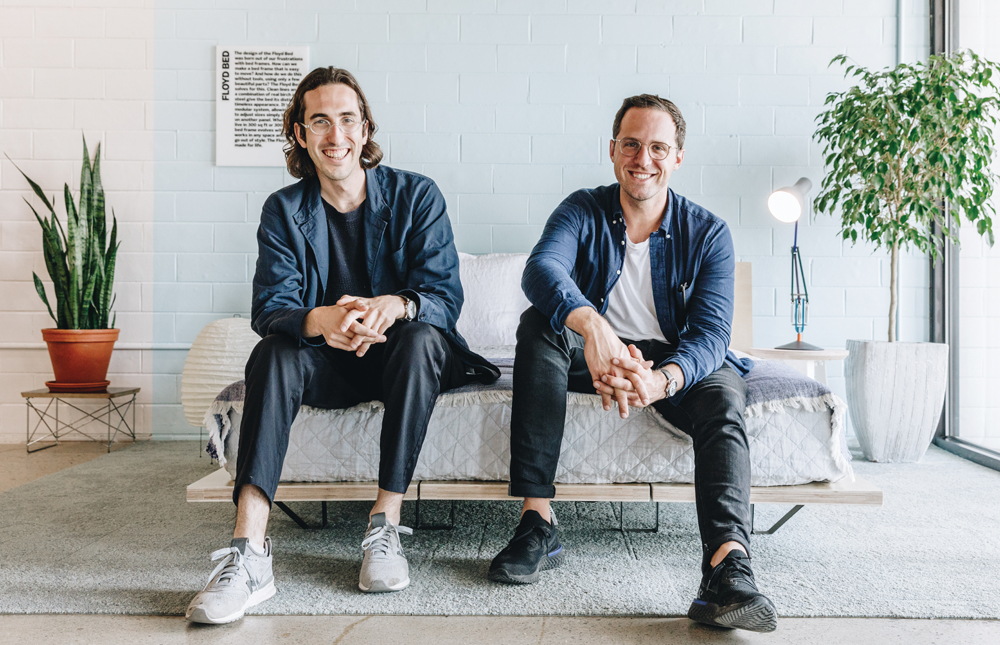 Two years and forty distinct iterations later, the final product exhibits mastery in its attention to detail, endless modularity, and commitment to long-lasting quality. Our shelf looks simple, but was one of the hardest products for us to design — it isn't easy to make an elegant, modular shelving system that's long-lasting and straightforward for the customer to understand. The Shelf features real Birch plywood supports and powder-coated American steel shelves in three colorways with customized hardware that is so easy to assemble and disassemble, you could put it together in as few as 15 minutes. Every element is designed to be flush, with no pieces that stick out and no limit to how much you can add-on. The hardware was especially designed to ensure that all screws are the exact same length, and the one bolt is square so you only have to tighten it on one side — it's the little, complex things that make it so simple.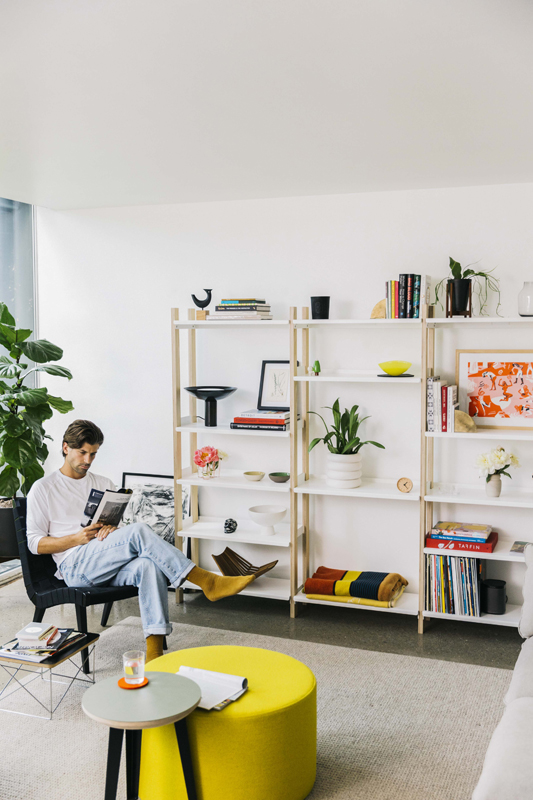 That is such an amazing and thoughtful process. Because you have focused on the functionality and details of each piece, how have you maintained a balance of this with the aesthetic?
Our products always start with understanding the customer need and the pain points we're trying to solve. It's not about imitating a period, but rather designing for how people live today and letting those constraints drive the aesthetic. After all, the product should be about them and their space.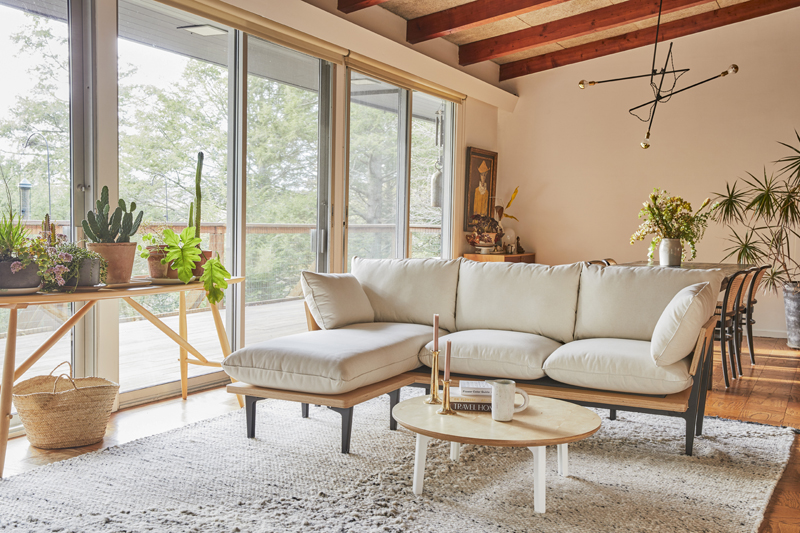 What a great approach. Take us through your current collection.
While Floyd does not offer the same type of variety as a traditional furniture destination, all of our products are rooted in intentional design. Today we have a bed, sofa, table, coffee table, and modular shelving system. We want to completely change and improve the way people consume, keep, and enjoy their furniture by creating an obsession around thoughtful design and modularity that can adapt to your needs over time. The Bed, for example, consists of a birchwood base that can grow from Queen to King, and back to a Queen as necessary. You can add a headboard, underbed storage, or even swap out the hardware for a different color to change the look. We create all of our furniture to last, to be kept, and to adapt over time.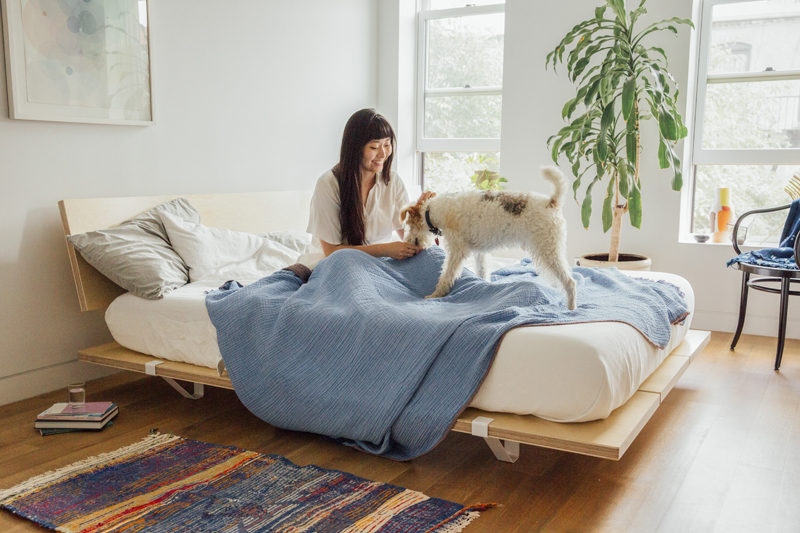 The modularity and intention of each piece is so unique and one of the great attributes of Floyd in advocating for a more sustainable home. Looking ahead, how do you see Floyd continuing to provide solutions for a beautiful home?
While Floyd does not offer the same type of variety as a traditional furniture destination, all of our products are rooted in intentional design. We're very much inspired by the greats – Charles & Ray Eames, Alvar Alto, and the legends whose styles defined modern American furniture in the late 20th century yet are still seen in homes today. We similarly create products that we hope to stand by for years to come, and we prioritize timeless design over trends to ensure that the pieces you buy from Floyd today will still be ones you love 20 years from now. All Floyd products are designed with a distinct but universal aesthetic to suit anyone seeking beautiful furniture that's made to last.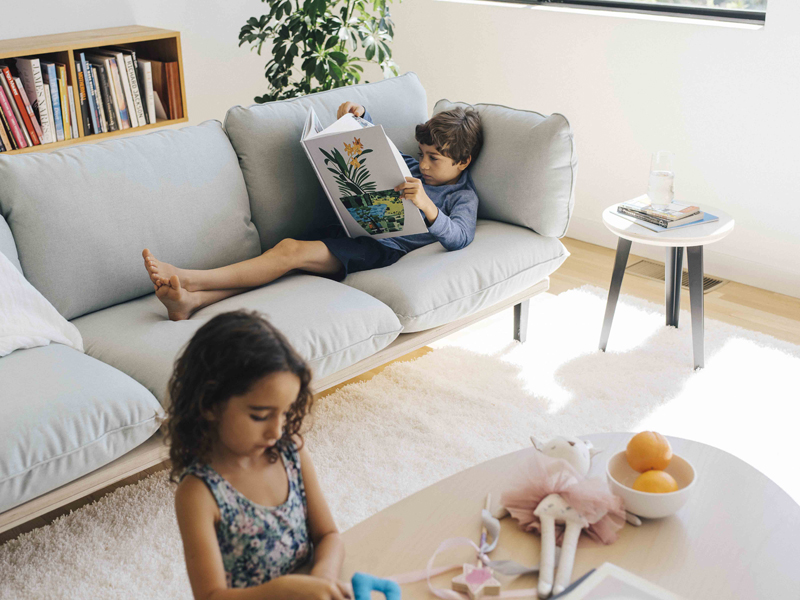 We can't wait to see what Floyd delivers next! Thank you again Kyle and Alex for sharing your incredible brand with us!
To learn more about Floyd's mission and their amazing furniture collection, please visit their Instagram profile and website.