With an incredible eye for design and style, tastemaker and hostess extraordinaire, Frances Schultz has just released her new book California Cooking & Southern Style, and we can't wait to share it with you. Building upon her expert tips on seasonal tabletop decor, home design and entertaining, her experience with food pairing and florals, outdoor living and style, and more, is on full display. Set on a ranch in beautiful Southern California wine country, the book features over one hundred mouth-watering recipes by chef Stephanie Valentine, whose cooking is acclaimed by all who've sampled it, including Martha Stewart and Julia Child.
With something for every season, the book's imagery highlights tastemaker Schultz's keen eye for table settings, beautiful yet achievable home design, and entertaining, along with tried-and-true expert tips, that readers can implement into their own homes. We spent some time with Frances, discussing everything from her work as a tastemaker and journalist to her inspiration for the book and her tips for making a house a home. Enjoy!
Congratulations on your new book Frances! Tell us about your work as a tastemaker, journalist, design expert, and hostess extraordinaire. How did you get started?
I took a magazine writing class on a whim my last semester at UVA, and I actually sold an article to a national magazine. For money! I couldn't believe it. Haha, BUT, it was nearly ten years until I came close to writing for a national magazine again. The important thing is to pay attention to your "beginner's luck" because it's a nudge from the universe that it wants you to succeed, in my case, it was luck for becoming a tastemaker. Then you have to go back and do the work, and I took some seriously un-glamorous jobs along the way, but as long as they involved writing and publication, I kept at it. The point is to persevere and you will get there. I promise. The decorating and entertaining came naturally to me and eventually found their ways into my writing. Thank goodness.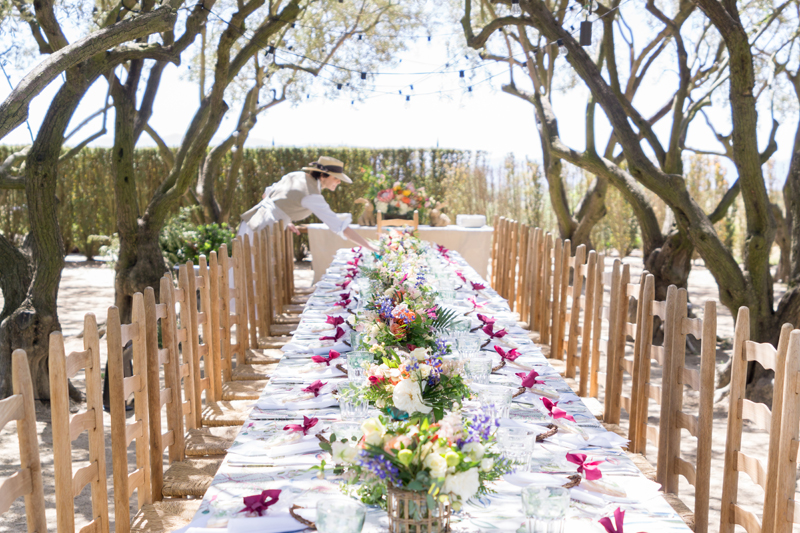 That is amazing. Perseverance is so key. You mentioned taking on some unglamorous projects early on, but what have been some of your favorite projects?
My top pick would be plein air painting, if you call that a project. I also love flowers and gardens of course, and I love to arrange furniture in difficult rooms. I think I have a knack for that.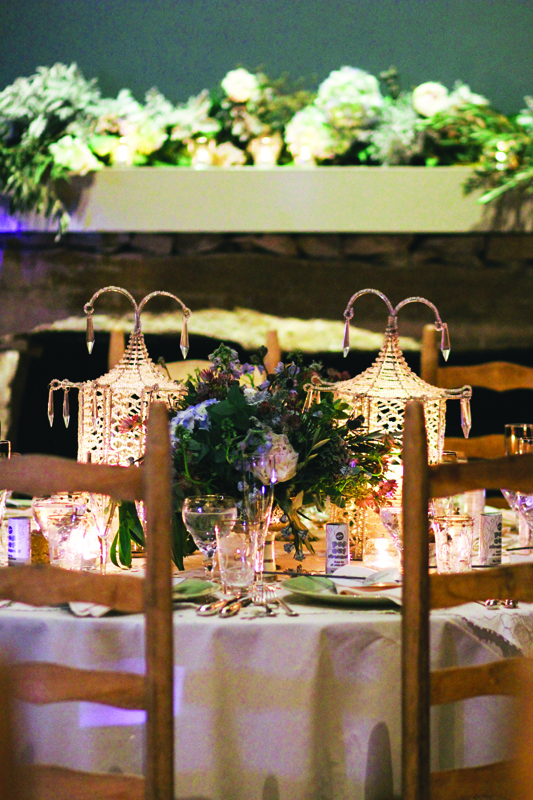 Who doesn't love plein air painting? When it comes to using design to make a house a home, what are some of your favorite tips?
First of all, thank you for making the distinction. People, especially real estate agents, invariably say HOME when what they mean is HOUSE. Who would sell their HOME? It would be like selling your memories. You cannot. What makes a house a home is the life lived in it. "Home" is personal, comprising furnishings and objects that have meaning for you. An artful mix of the soulful and frayed with the shiny and new looks lived-in, a little eccentric, un-stuffy, and insouciantly confident. That's the kind of place I want to come home to, and that's where I want to be invited to dinner. Speaking of, nothing says home like home-cooking and meals together with family and friends. If you don't already do that, start. It will change your life.
We couldn't agree more. Home is personal and meals together with family and friends is an amazing way of capturing those moments. When it comes to styling, what are some of your favorite combinations?
Like objects grouped together. Objects grouped by color or theme, though I think arranging books by color is ridiculous. Foraged flowers and greenery in simple containers. Plays on scale, like a giant mirror or painting in a tiny room, or a small dining table with a pile of books and an oversize vase holding a mass of foliage. A wall, or section of wall, crammed with paintings from floor to ceiling that might include a child's drawing or a Matisse. Oversized pillows. Child-sized chairs to hold a drink's tray, or a stack of books, or even a child… or a small chair by the bed, to put your bathrobe on before you tuck in. The rough with the smooth, the organic with the manmade.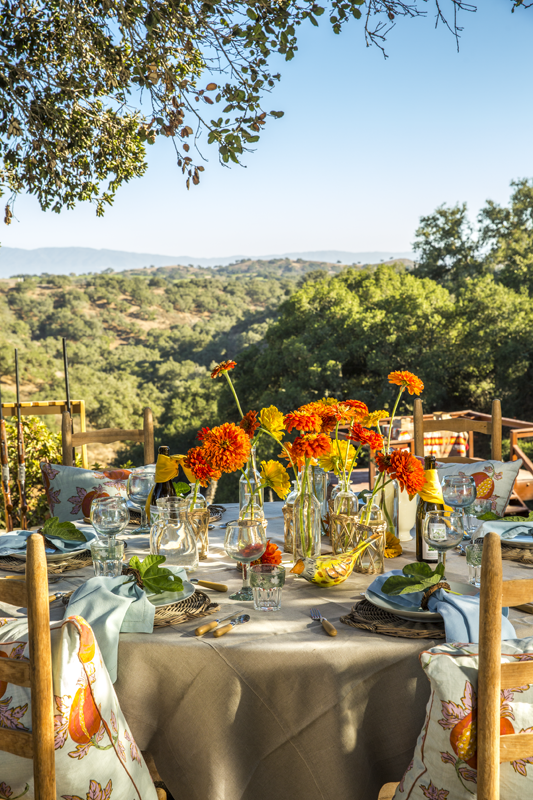 Those are really amazing combinations! When it comes to inspiration, what was the influence behind "California Cooking & Southern Style"?
It's corny, but it is simply a love letter to my husband, to our life and work at Rancho La Zaca, to California where I live, to the South where I grew up, to good food, beautiful tables, and to the gift of gathering. Hmm, The Gift of Gathering might be the title for my next book. What do you think?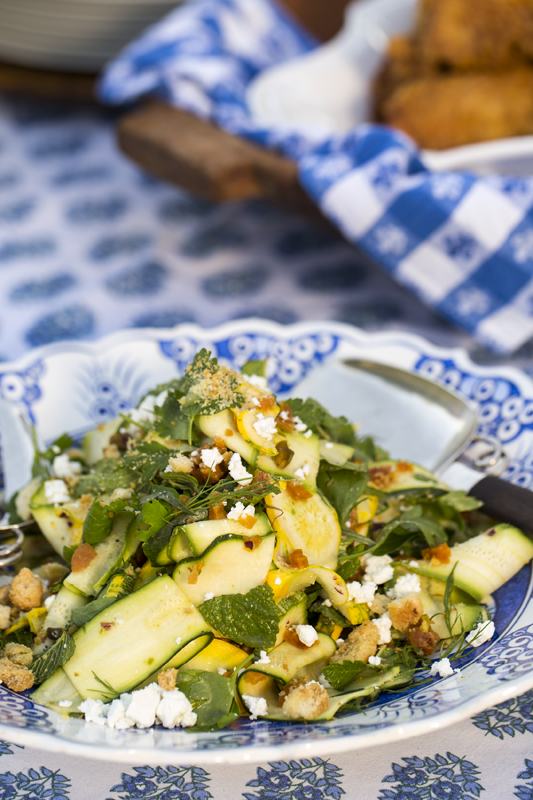 That is so inspiring and such an amazing way of honoring your husband! The Gift of Gathering couldn't be more appropriate. When you look ahead, what colors, textures, and materials do you see taking over the home in 2020?
I've been saying this for a while now, but I do think beautiful old antiques, aka brown furniture, will come back, and there are bargains all over the place! I think people are tired of vanilla and we're going to see a little more melon sorbet, strawberry, pistachio, and personal style. At least I hope so. It's been a blessing, that the so-called good design, has become so widely accessible, but the curse is that it has also become cookie-cutter.
We keep hearing this a lot. Antiques are having a major moment and will continue into the new year. It can be true that good design can sometimes become watered down, but our hope is that by telling such inspiring stories like yours, we can keep good design alive. Thank you again Frances for sharing your amazing new book and incredible tips with!
To get a copy of Frances' new book "California Cooking & Southern Style" please visit her website here.