Youtuber and pro-DIYer Alexandra Gater is super passionate about showing millennials how to do affordable upgrades, even for rentals. As an editor, stylist, and home decor expert from Toronto, she was the Home Editor for Canada's iconic women's lifestyle magazine Chatelaine, before starting her DIY Youtube channel. Her Youtube channel is a collection of service-driven home decor content including budget room makeovers, decor hauls, and room tours. She is also a guest expert on Cityline — the longest-running and most successful daytime show for women in North America — and writes for decor magazines across Canada. We couldn't wait to sit down with her and have her share her tips, tricks, and amazing style with us.
Thank you Alexandra for taking some time out of your busy schedule to talk with us. I know you are involved in so many new projects, which is super exciting! You also have an amazing Instagram profile and Youtube Channel and are such a great resource for DIY decor. How did you get started?
Thank you! I went to school for Journalism and started my career as an intern at Chatelaine Magazine. I worked my way up over four years — first as an editorial assistant to the editor-in-chief while also helping out the Home Director at the same time. During my last year at the magazine, I became the Home Editor and ran both the print and online home decor section of the magazine. It was there I started the video series The Home Primp which launched my career on YouTube. I now have my own business making YouTube videos with an audience of over 165k subscribers and appearing regularly as a guest expert on Cityline and The Global Morning Show.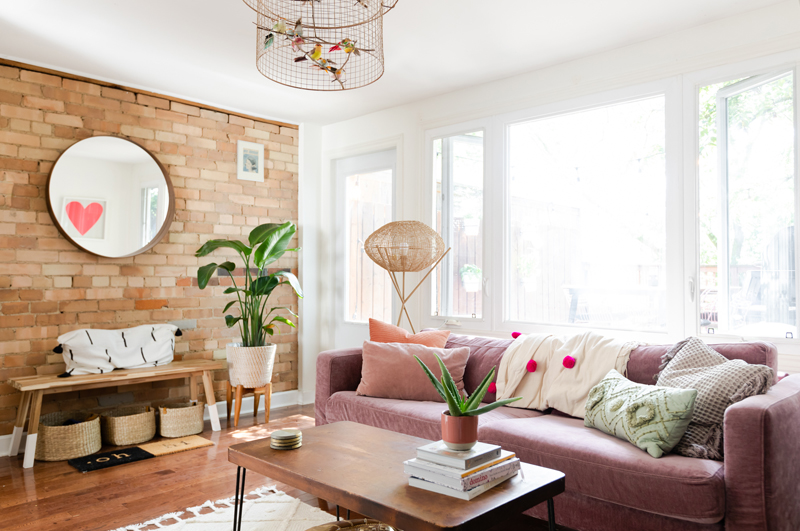 That's an amazing journey Alexandra! Take us through your creative process. How do you approach a space?
My makeovers are geared towards millennials who rent, so that means they have to solve small-space problems for not a lot of money! Whenever I makeover a space, I always think as the homeowner, what isn't working for them? I find that's the best way to really understand how the person is living in the space, and what problems need to be solved. Hence, I also always ask for two or three images of their favorite spaces. I ask them to narrow it down to just a few because then I feel like I really get a sense of their style. Then, I sit down in front of a blank Photoshop document and create a mood board filled with products and paint colors. It really helps me visualize the space and create an overall mood and style that I feel reflects the individual.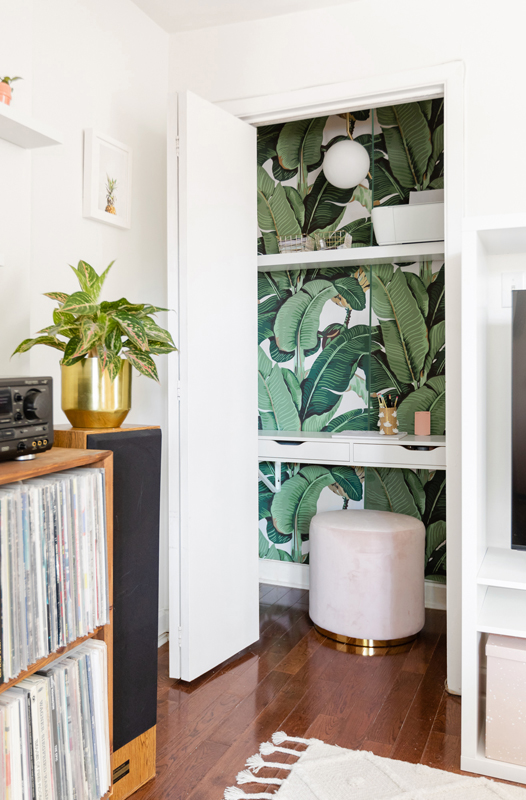 That's a really great approach! When it comes to creating a home, what are your go to styling tips?
Try not to get too caught up in buying items that fit one style and instead, buy what you love. I really feel like your home should be a reflection of you and it's amazing how much your space will feel more comfortable and inviting, if you just buy what you love, instead of trying to stick to a formula. I also always say if there's one new piece you are going to invest in to update your space, let it be a bold statement light. A beautiful light always makes a space, in my opinion!
That is so true. What are some of your favorite under the radar decor brands? What are the best decor items for a small space?
Some of my favorites are Emily Keating Snyder who does stunning artwork, Bemz a company that makes custom Ikea couch covers, and Casa Chic Furniture in Toronto who imports stunning boho decor from Bali. 
Best decor items for a small space have to be bright, colorful artwork (it always pops in a small home), statement lighting and clever storage (my go-to small entryway necessity is the Ikea Hemnes shoe cabinet. It fits in the narrowest of hallways and holds so many shoes).
Those are some amazing brands, Thankyou Alexandra. Using colorful artwork and statement lighting is such a game changer for bringing life to a small space. What are your favorite DIY hacks for serious style upgrades?
Easiest and most cost-efficient are changing the knobs on your dressers, cabinets, and media units. It's the most simple way to upgrade an old piece of furniture. I also love using peel-and-stick wallpaper to create a fun accent wall — plus, it's renter-friendly. Also decant anything you can! Put dried goods on display in glass jars and pour your lotions and soap into amber bottles to make every day items look super chic and uniform.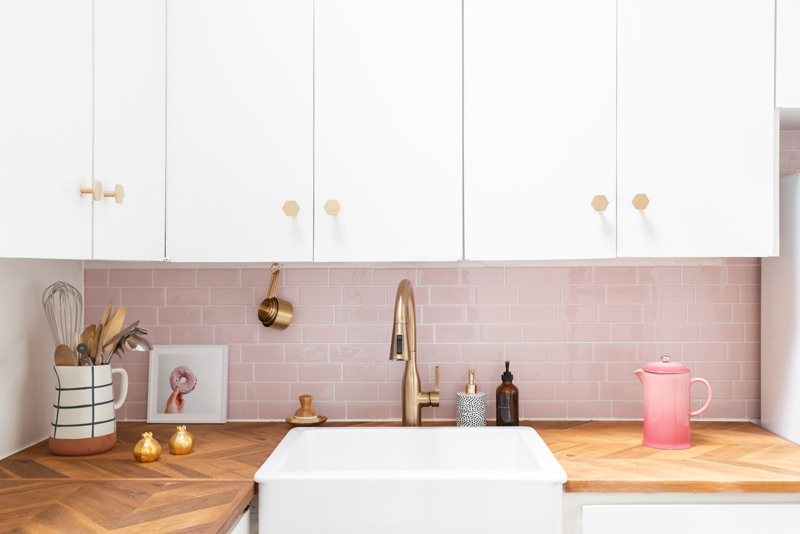 Those are such great tips. I especially like your idea of decanting everything. What a clever trick for a chic look! What are your tips for making bathrooms and kitchens feel bigger and more functional?
The secret is definitely finding ways to mix decor and function. In a kitchen, try decanting all of your dried goods into glass jars and line them up on your counter. In a bathroom, use tons of decorative baskets to store anything from toilet paper to towels. Also, label everything and anything with a retro label maker. This one is my favorite.
Really great ideas! When it comes to living organized, what are your recommendations for removing clutter?
I can't stand clutter and if my house is a mess, I feel like a mess too! When I moved recently, I purged so many things (like mugs I'd accumulated for years and towels and linens that I'd had since university) and invested in items that I really loved. In my kitchen, every utensil, bowl, mug, and cooking accessory was picked out with care. I really waited to find things that I loved for my home, rather than just buying something because I needed it. Whenever something comes into the home that was gifted or handed down to me that I know I won't use, I pass it along right away to a new home or donate it. I can now look through my home and honestly say I love everything I own — right down to my salad servers!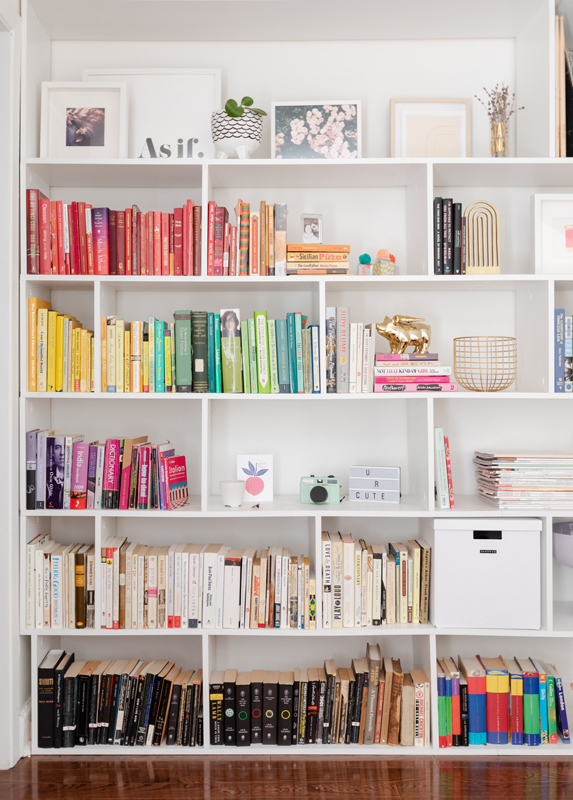 That's a really great strategy, because we often just buy to buy and if we spend a bit more time thinking about investing in what we really love, we will get so much more enjoyment out of what we have. What colors, textures, and materials do you see taking over the home in 2020?
Definitely more dusty, earthy tones like terracottas and dusty pinks. It's like pastels are transitioning into a more sophisticated version of themselves and I'm living for it! I am also seeing more love for eclectic design, with more people moving away from a home that looks magazine picture-perfect and instead of mixing all of the colors, patterns, and textures they want.
We couldn't agree more! Thank you again Alexandra for sharing your thoughts with us. You have such an amazing platform!
Find Alexandra on Youtube and Instagram for more tips and tutorials for a beautiful space!