You can't think of California-cool and midcentury modern without talking to interior designer Natalie Myers. With an unconditional adoration for mid-century design and the owner of Veneer Designs, she has transformed some of Los Angeles' many modern homes with her organic, modern, mid-century inspired perspective. We spent some time with Natalie discussing everything from her unique approach to design to styling tips and favorite decor brands. We hope you enjoy as much as we did!
Thank you Natalie for sharing your thoughts with us. Tell us about Veneer Designs. How did you get started?
I started my design studio almost 9 years ago, partly in response to taking control in creating the career that I wanted, versus waiting for a corporate structure to allocate it to me. I had a lot of creativity bottled up in me that I waited for years at corporate jobs to express. At a certain point, I realized that I wasn't appreciated and if I kept waiting on my managers to see the light, I would never get to work on the kinds of jobs I wanted to work on. The jobs I was working on felt stifled and tedious. It was time. I was also a new mother and wanted to have more flexibility in my schedule and determine my own project load and time tables. It was scary to go off on my own but I am so happy that I did. I would never have gotten my skills as tested and honed as a designer if I had stayed on the corporate track.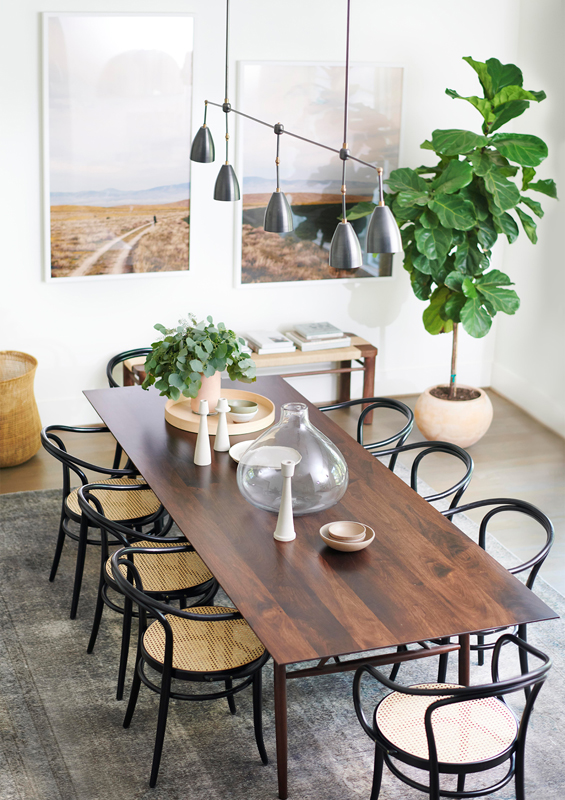 Congratulations on taking that leap. That can be so scary, but based on your success, it has probably been the best thing you could have done for yourself. Take us through your creative process. How do you approach a space?
As soon as I walk into a space I know exactly how to improve it and already see the finished version in my mind. That part is easy. The next few weeks involve the time and intensive process of hunting down the tile, stone, colors, fixtures, furnishings, etc., that I need to make that vision possible. Then communicating those ideas in a comprehensive set of presentation boards, renderings, floor plans, etc., for my client to be able to visualize, along with me. Once I get their approval, another tedious few weeks of creating a construction bid set of drawings to share with the builder to illustrate what I want built. The next few months involve placing orders and overseeing the build-out, to make the drawings come to life. From start to finish, its at least 6 months and sometimes more than a year. Crazy, right? When I knew all along how it "should" look.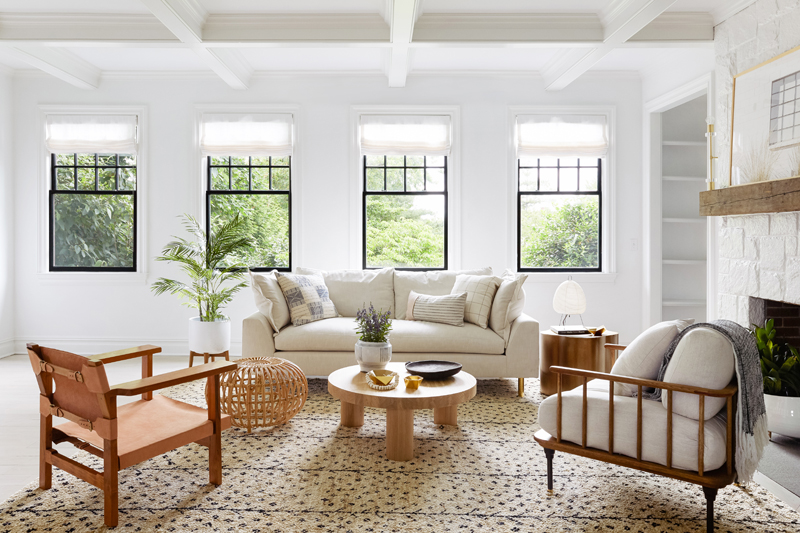 It's amazing how you can see it so clearly and then have to experience all the effort it takes to make it a reality. It becomes so much more rewarding though, when you step back and realize how much work goes into a vision. When it comes to creating a home, what are your go to styling tips and combinations?
The magic trick is varying heights, so your eye moves along the space and doesn't get stuck on one spot. Varying heights of furniture, accessories, even plants.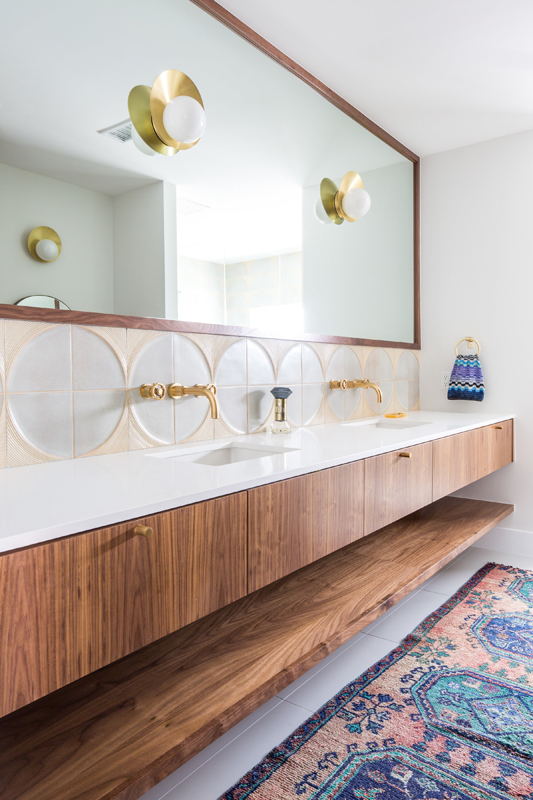 That is such a great tip. What are some of your favorite under the radar decor brands and some of your favorite materials to use?
Leather, wool, and linen are natural and timeless materials I gravitate to because I trust their family friendly durability. Some under the radar home brands I love are Garage Collective, Shop East Co, and Leif.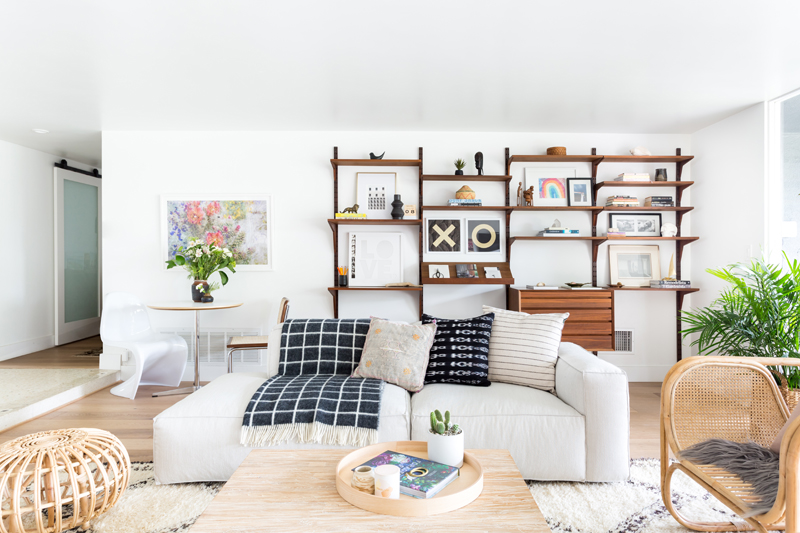 Perfect. Looking ahead, what colors, textures, and materials do you see taking over the home in 2020?
Beiges and tans are the new grey. Warm earthy neutrals are taking over and they mix well with the blushes and black/greens we are ready to embrace as accents.
Great. When it comes to balancing modern design with comfortable living, what are some of your tips?
Ergonomics is really important. A lot of modern profiles look cool but the heights of tables or backs of seats hit you at the wrong spots and become annoying for everyday use. Get to know the heights you are comfortable with for seats, backs, headboards, and more. Then look for pieces that meet your requirements or you will curse them, every time you use them.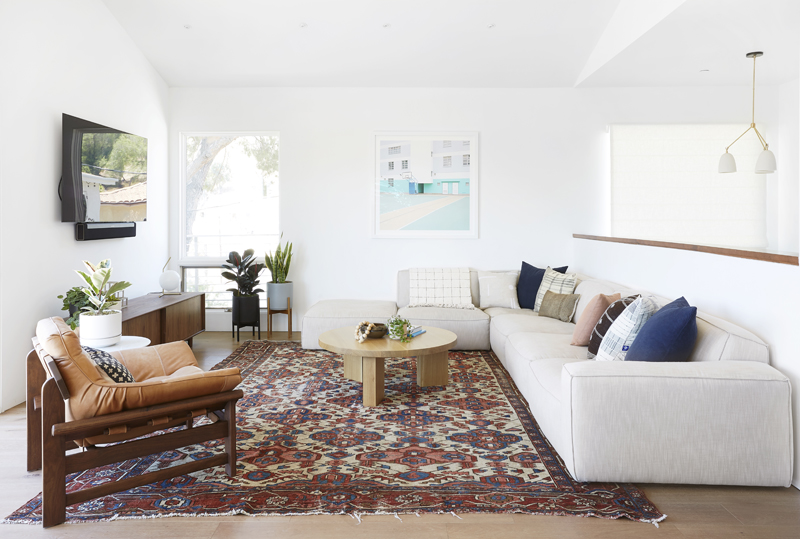 That is very true. Thinking about the ergonomic impacts of furnishings is so important. What are your "Golden Rules" for timeless living spaces?
Big ticket items like sofas, tables, and beds should be classic and in a neutral tone. Don't succumb to trends. Pepper in trendier accessories and colors that are easy to swap out when you get bored.
Excellent. When it comes to inspiration, what other designers, artisans, creatives, and architects are you inspired by at the moment?
There is a LOT of amazing talent to discover and connect with via Social Media right now. Lately I'm very inspired by Tali Roth, Mason St. Peter, Laura Naples, High Desert Studio, Double M Pottery, Night Palm Studio.
We couldn't agree more! Thank you again Natalie for sharing your time with us.
For more on Natalie and her amazing studio Veneer Design, please visit her website and Instagram profile.