It might have been fate when Nick and Sarah Karakaian first met in New York, when Sarah needed a hand with a client's home. It was just a short time later that they were thrown into the spotlight with their architectural and organizational skills on full display for HGTV's Beach Flip. It may come as no surprise that after wrapping the show, they have built an amazing business, flipping homes, managing Airbnb's, and consulting others to have the same success. Their consulting business, Nestrs is taking off and with so much to learn from these amazing designers, we wanted to find out all we could. We hope you enjoy their knowledge as much as we did.
Thank you Nick and Sarah for sitting down with us. Let's start by discussing the story behind Nestrs. How did you get started and what are all of the different services that you provide clients?
Nick: I went to school for architecture and worked for Google and was always doing remodeling work on the side and then I started to think, I can turn this side income into a full income. So I started pursuing real estate and construction, while still doing design.
Sarah: I went to school for theater. I did theater for ten years, traveled the world, had a great time singing and dancing, but eventually, also got the entrepreneur bug, which you kind of have as a performer. I started an organizing business to make people's spaces more functional and then I ended up hiring Nick's "construction business" to help me put up shelves and make a client's bedroom beautiful, so we would collaborate and make these things happen together. While this is happening and our businesses are just getting started, we got contacted by HGTV for a show. We got on the show and had so much fun on the show and came back to New York thinking, if HGTV thinks we can do this, maybe we can just join forces and so we did and named the business Nestrs, which is where we are at today.
We then left New York in search of a more affordable real estate market and also where our voice could be heard more than it might in the city and we landed on Colombus, after traveling for a year. We used to be hands on construction; cutting the trim, hanging the cabinets, doing the tile installation, and designing the spaces and now we're much more of a consulting business and we consult on real estate investing, interior design, and managing a boutique Airbnb management company.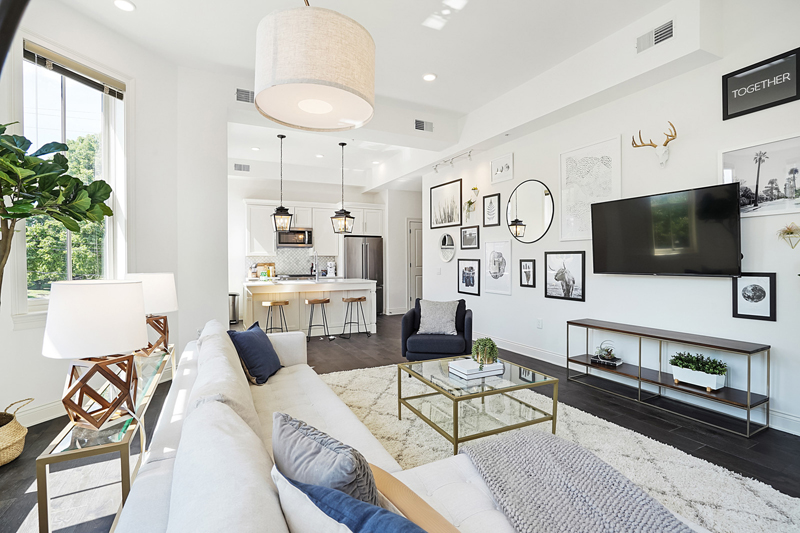 What a great story! How do you think your background in design and architecture has influenced your consulting business in flipping homes and managing Airbnb's?
Nick: As consultants we realized that we need to be investors, if we're going to be consulting with investors, so we do our own flips. We already had our own Airbnb's, but we also wanted to learn more about buying homes and scaling a real estate investment and stuff like that, if we're going to be advising on this. We're now moving to a broader spectrum that allows us to advise you, if you're looking to invest, what gaps do you need filled and how can we help you streamline things. Who can we introduce you to, what's going to bring the most value to your home, and help you develop your long term or short term strategy for it all.
Sara: We actually also had Airbnb out to work on their #howtohost series. I think our program comes out in October. We have that relationship with them which is great. They love the Columbus market, because the city has said you can do short term rentals as much as you want, you just have to be licensed, so Columbus is great for travelers and because of their decision with the legalization of Airbnb here, Airbnb loves our market which is really exciting. I have my podcast about short term rental hosting and while my preferred platform is Airbnb, we try to keep it broad, because I think when a lot of people think of short term rentals or Airbnb's, they think heads and beds and I'm really trying to debunk that. I want everyday hosts to have their own mini hotel and really care about the guest experience, about having really comfy furniture, a comfy bed to stay in, and just representing the city.
As consultants, I think it comes down to understanding your client's goals and needs because every one of us is different and we may have a different idea or a process behind what we wanted to do with a specific property or investment. It changes drastically if its your own home, as opposed to if its your second or third investment property and we just need to make sure that we're prioritizing the design portion and the strategy of it all appropriately, so it makes the most sense for the investor, for our client. Right now, I just created a freebie, which is an essential checklist for when you're starting an Airbnb. I feel like a lot of hosts have an opportunity to anticipate their guests needs, so I've created a really comprehensive checklist. I don't specify which bed to get or which dresser to get, because I think the main thing about Airbnb is that it's not cookie cutter. With Airbnb, the adventure of it, is the owner's reflection in the space or maybe you're doing a themed space. That's the exciting thing about creating an Airbnb, it can be a reflection of what your design style is. So while I don't want to curate Ikea package type things for Airbnb hosts, I do want to encourage hosts to anticipate their guest's needs, so when the guest goes to reach for something it is there.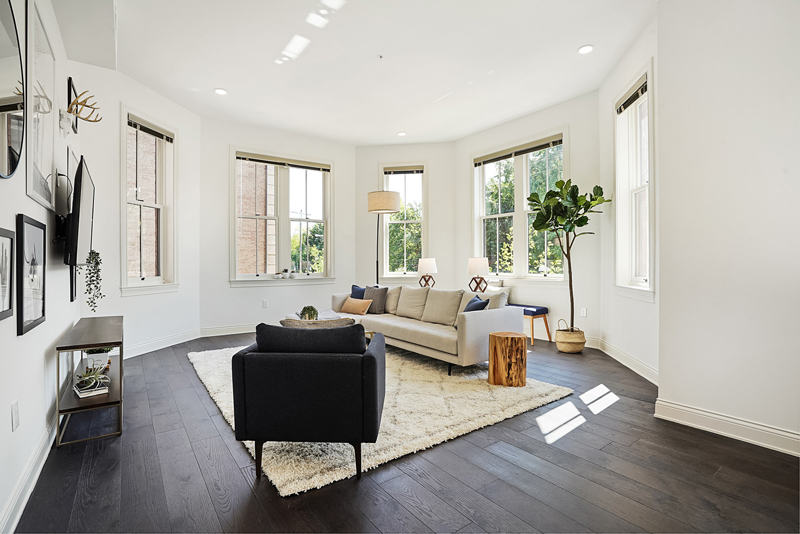 That's a really great way of looking at it. With so many great Airbnb's, what is your process for creating the very best Airbnb experience? How has the platform changed the short term rental market?
My process for creating the very best Airbnb experience is how can we anticipate our guest's needs. If they go to reach for something like they would at home, I need to make sure it's there and the way I check that and my number one piece of advice to people, who are new to Airbnb hosting, is to do a mock stay yourself and then ask a truth telling friend to do the same thing and ask them what they notice when they stay. Are hot and cold faucets backwards? Did you forget your phone charger and I didn't provide one for you? Whatever it is that can make the space better, have your friend tell you, before your reviewers tell you. It's my number one tip.
I also think the thing that Airbnb hosts miss out on, is that this isn't passive income. It's a different sort of real estate investing. Guests who are staying with you are traveling and they're spending money to stay in your space. You're providing a service. I think communication is something that people can really step up, to stand out on the platform. We have a system, where we always reach out three days before the guests arrive, we reach out the morning after their first night and make sure everything is OK and ask them if we can fix anything that may not be as expected. We reach out to them before checkout, to remind them of what they need to do to check out properly. If they have any questions, we invite them to come back if they're ever in the area again. It's that constant check in that can create a great experience.
Those are really great tips! For those that are considering getting into flipping homes, what is your best piece of advice? What is the best way to keep your budget in check?
It's a good question. The answer is to buy right. I think there's a big saying "you make your money when you purchase the property" and what they mean by that is, if you buy a property that doesn't have a lot of wiggle room for your numbers, you're taking a pretty good educated guess on what it can take to resell it and make a profit. If that margin is too small, it's just a super stressful situation, you don't want to get into. If you're considering buying the home and flipping it, make sure you're getting a really solid deal. Make sure you have enough wiggle room that should your plans not go as planned, which happens, I would say 80 percent of the time, you have a little bit of wiggle room and you're not over leveraging yourself. What's the worst possible scenario with this home, if it doesn't go how I think it could? If we answer that question and we feel comfortable at the worst possible case scenario, then we know it's a good buy. 
That is really great advice. For someone looking to get more organized or tackle small projects around the home, when should they do it themselves versus hire a professional?
Good question. This is kind of a general answer, but we tend to think number one, if your gut is telling you that you don't have the time to invest in teaching yourself that new skill and you feel nervous about the outcome, maybe you should hire a professional. If you have the time to take, to really evaluate the project, and you think you have the tools and the education necessary to execute it, without the worst possible case scenario, where your house is burning down, then go for it. I think with plumbing and electrical projects, those might be something that you want to be a little bit more cautious about, because the end result could be a little more costly. However, if you want to fix a door swing, you might have to redo it a few times, but nothing too catastrophic can happen.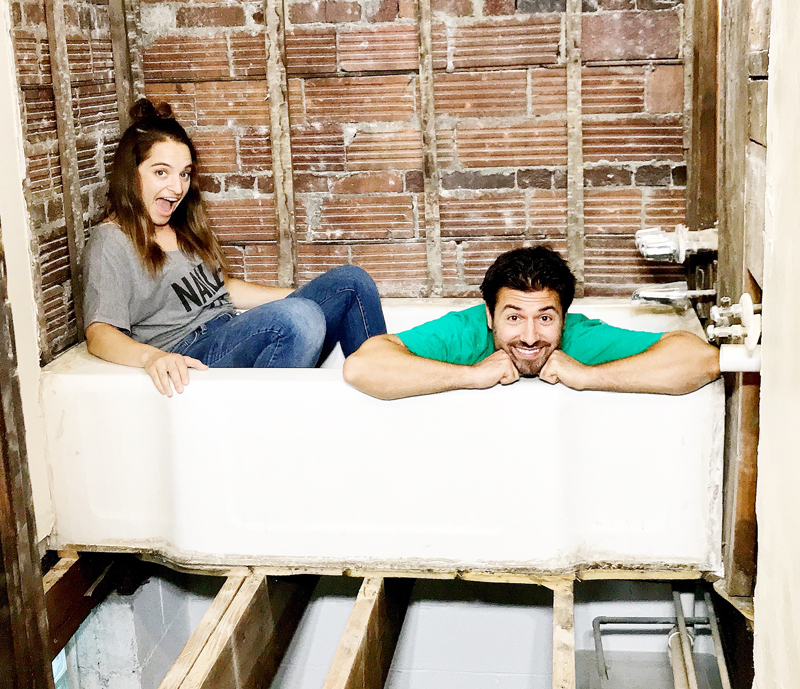 Agreed. When it comes to staging, what are your tips to make the biggest impact?
With staging, we want to sell light. We want to sell real estate. We want to sell functionality. Those are the three things I ask myself, when I go into any stage. I'm not decorating the home, I am merchandising the home and I want to make sure the buyers aren't questioning how these things would be used. I get excited when the realtor says they saw the way you suggested they use the space, but they also thought of these other ways that it could be used. That's awesome! Also, you want to sell the real estate, so you don't want to clutter up with a bunch of furniture. I always remind people, open up your curtains. We want to make sure there's enough light in there and that a darker room has secondary lighting with lamps, both floor lamps and table lamps, that sort of thing, to really just make the space feel warm. 
That is really sound advice, because we can easily get caught decorating, not merchandising for the the potential buyer to see the space as theirs. With that in mind, what does the future of Nestrs look like?
We're multi passionate entrepreneurs and sometimes that's a great thing and sometimes that is what holds us back from really exploding, I guess. If the floodgates opened and we had our way, we see ourselves having departments for Nestrs. We're kind of like a one stop shop for our community. We want epic Airbnb's to be in our portfolio. We want to have a property management department. If you've got beautiful long term rentals, we are your company. If you've got beautiful Airbnb's and you don't live in town, don't worry we got your back. We have a whole redevelopment portion of Nestrs. Of course our design is where we started it all. So if you want to come to us and work with our designers on your kitchen design and your bath design, if you want us to lay out your floorplans for your flip, we can take both good design and marry it with your budget. I think it's that transformation portion of Nestrs and also that long term care of the property, that we are really excited about. We always want to share that online, so that if you're not in Columbus, you can still learn from us and learn with us, because the market is always changing, trends are always changing, and we have to stay on top of that.
Amazing! Thank you again Sarah and Nick for sharing your thoughts with us.
To find more of their amazing tips and to follow along with their projects, check out their website and Instagram profile.