You've searched for weeks and you think you've finally found your dream apartment in a neighborhood you love. You can't wait to move in but the security deposits, packing supplies, and movers are adding up fast. Additionally, your bathroom hasn't been renovated in 40 years and it has no storage and your kitchen is the size of a closet and has seen better days.
It's no surprise that decorating your new home is a priority as soon as you get settled. But with so many restrictions and the need to paint the walls back to white at the end of your lease, remove any upgrades, and use spackling paste to fill holes, you might be turned off just thinking about all the obstacles. With this in mind, we've put together a list of some lease-friendly and budget-friendly ideas that won't affect your security deposit, or relationship with your landlord.
Lighting
Let's start with the most simple, quick upgrade and that is your existing lighting. After all, most rentals don't have the best looking fixtures and this is one of the easiest things to change, without creating major damage. Start by taking inventory of your light fixtures and then take a look at different brands online and in person for inspiration. Rejuvenation and Schoolhouse have affordable options that really help transform a space. Switching out lighting is an easy fix to make any room feel brighter and fresher. One tip is to light up from the floor. By using low, warm, and strategic lighting and switching out overhead fixtures for more stylish ones, you will greatly improve the feeling of the space. Best of all you can reinstall old fixtures when you're ready to move, without any repairs.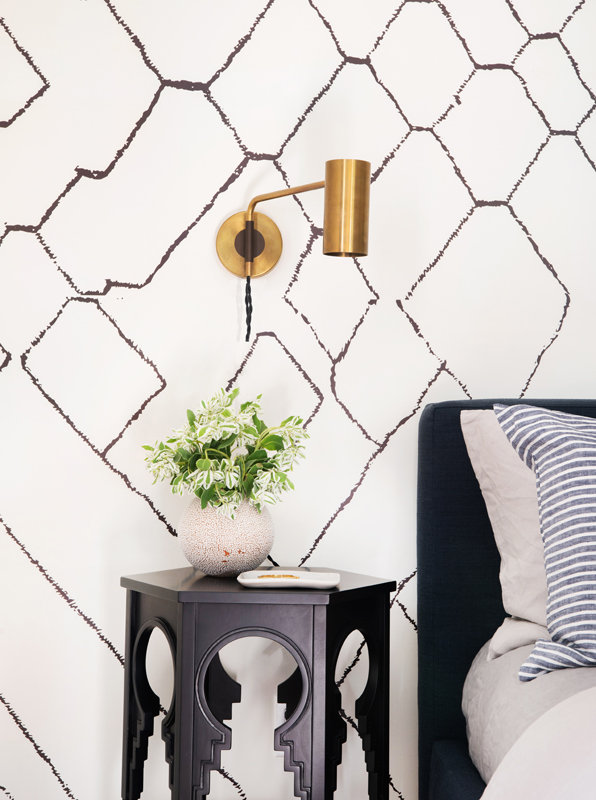 Rugs
Rugs are so versatile and not only mute the sounds of walking, but also protect hardwood floors. They are the easiest way to add texture, color, and pattern to a space.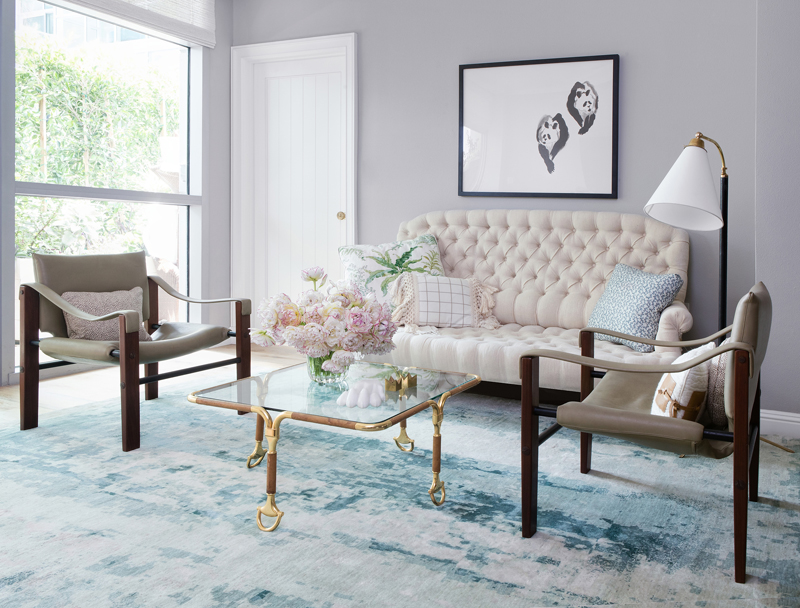 Kitchens
Kitchens can be a bit of a challenge because it can be hard to mask old cabinets and countertops that don't have much character. However, Youtuber and decor enthusiast Alexandra Gater has some great tips for this space. She says, "The easiest and most cost-efficient is changing the knobs on your dressers, cabinets and media units. It's the most simple way to upgrade an old piece of furniture. I also love using peel-and-stick wallpaper to create a fun accent wall — plus, it's renter-friendly. Also decant anything you can! Put dried goods on display in glass jars and pour your lotions and soap into amber bottles to make every day items look super chic and uniform."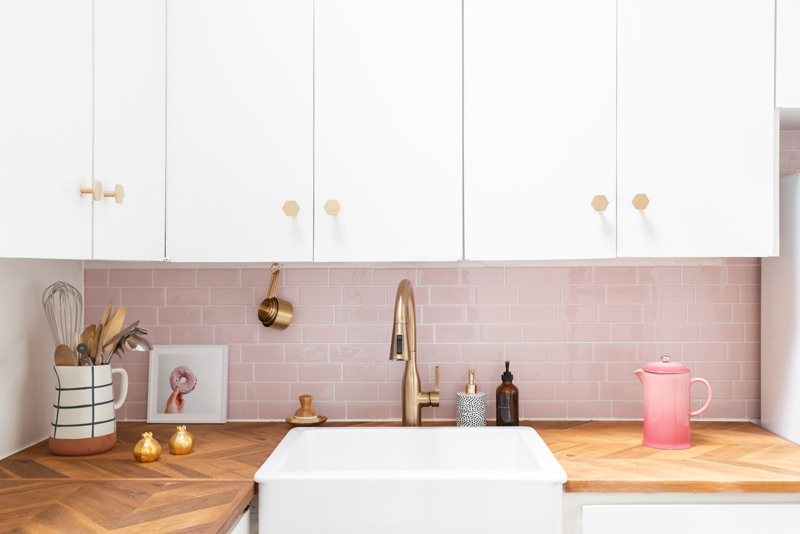 Bathrooms
Bathrooms can be tricky, especially if your tile and fixtures are outdated. For simple, low-cost upgrades, try fresh, bright linens, flowers or stems, and a nice light fixture. Use shower curtains with a contemporary design and change your shower head for a bigger impact. Another opportunity is to remove basic hardware for vanity drawers and doors and replace them with quality ones. You can always change them back to the original when you're ready to move.
Plants and Mirrors
Using plants and mirrors within your space, not only brings freshness into the home, but it also makes your space feel larger. Taylor Morgan, also known on Instagram as The Planty Dropper, has some great tips for using plants and mirrors to make a space feel bigger and fresher. She says, "I always incorporate mirrors with my plants. I love the way that plants look in reflections and it helps to make the space feel more lush! It's also really beautiful to see how the sun reflects back and forth between the foliage and the mirrors. I always go for a nice copper or brass framed mirror for detail." Try adding these to your space for more life and charm.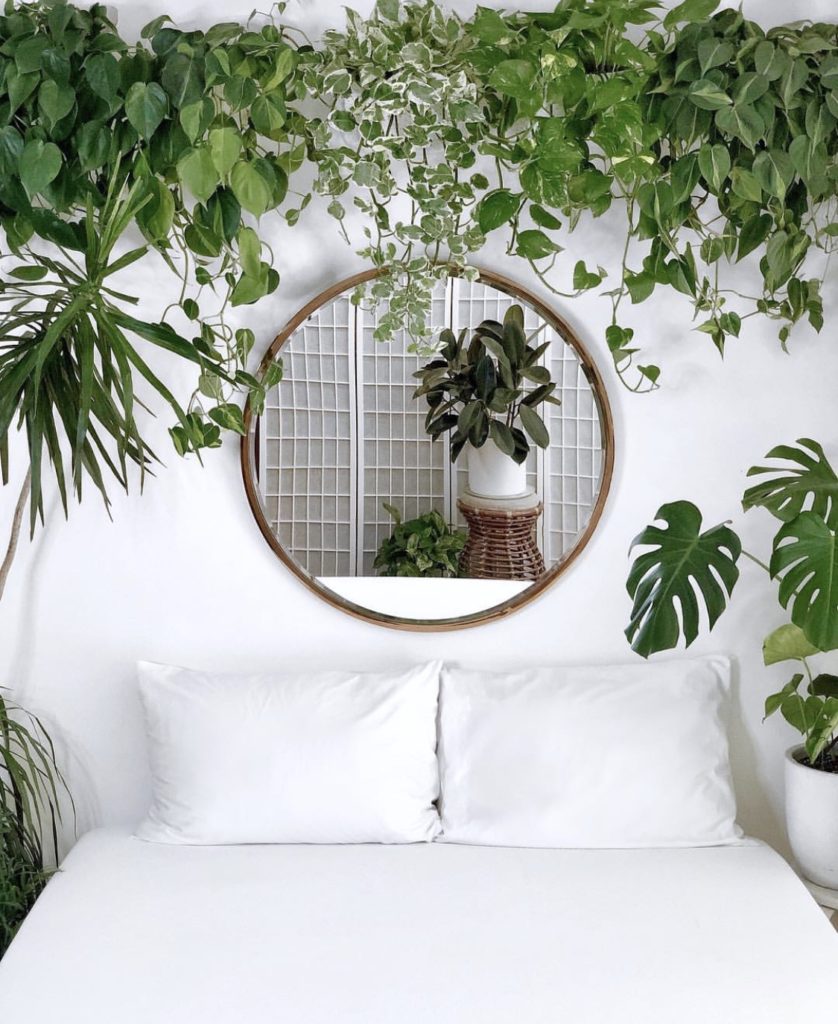 Flexible Furnishings
Imagine the scene, you've been living in your apartment for a few years and while there have been so incredibly careful to not scuff or damage the place. It's moving day and you were up until 2 am scrubbing every surface and meticulously patching every picture frame hole. There is no chance of losing your security deposit, right? Now, the time comes to move out the furniture. You may have hired movers, maybe you're manning the move yourself, but suddenly that queen size bed that you assembled in the room isn't fitting through the front door. Then it happens, a terrible scraping sound and a huge gash on the front entry wall right there for your landlord to see. The Everset helps make sure this scenario never happens. Their team knows out furniture inside and out and can assemble and take apart the pieces with the safest scuff proof know how and care. Not only do you get to avoid the torture of a move, you can rest assured your walls are in safe hands!
Additionally, renters often will leave furniture they no longer want behind, when they move out. It either doesn't fit in their new apartment, their taste has changed, or the cost to move it is about the same as buying something new. The problem with that, is landlords will often charge you to remove the furniture and reduce your security deposit. With The Everset, you can select individual furniture items from their catalog or pick a curated furniture package and keep it for 3 months up to 14 months. When you are finished, you can renew, swap it for something, or return it.
Pillows
Throw pillows are an amazing way to complete any space and the easiest way to add a layered, personal touch. They create texture and pops of color that are easily interchangeable. This minor edit can work wonders for those of us who like to change things up each season.
Wallpaper
Wallpaper brands have come a long way, when it comes to being removable. Now, instead of leaving residue behind, there are amazing, chic designs, that peel off easily. When you're ready to move, or just make a change, all you have to do is peel off the film, leaving you free to create a statement wall or room without fear.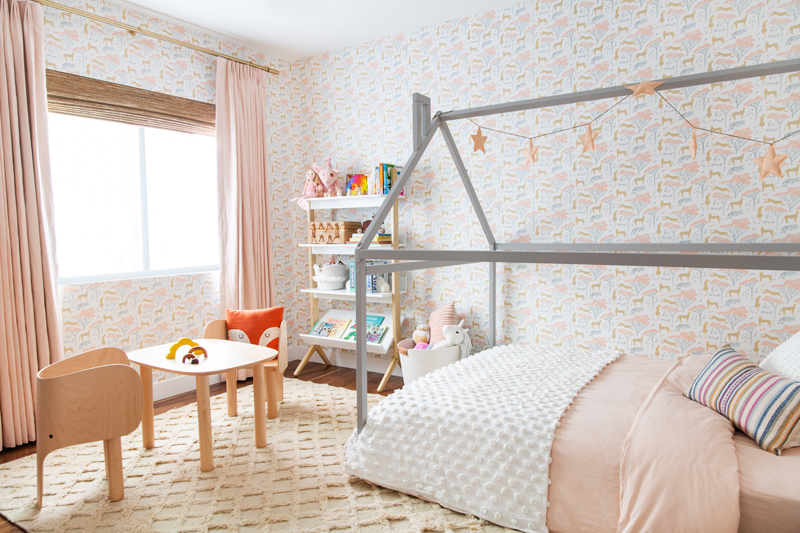 Bookcases
If you don't want to use adhesive wallpaper, but are looking for some pops of texture and color, consider creating a focal point with a bookcase. You can find some inexpensive options at Target and Ikea. Make sure they're the same finish and color and then use books to anchor the space. You can also try painting the back panels a bright color to contrast your space even more.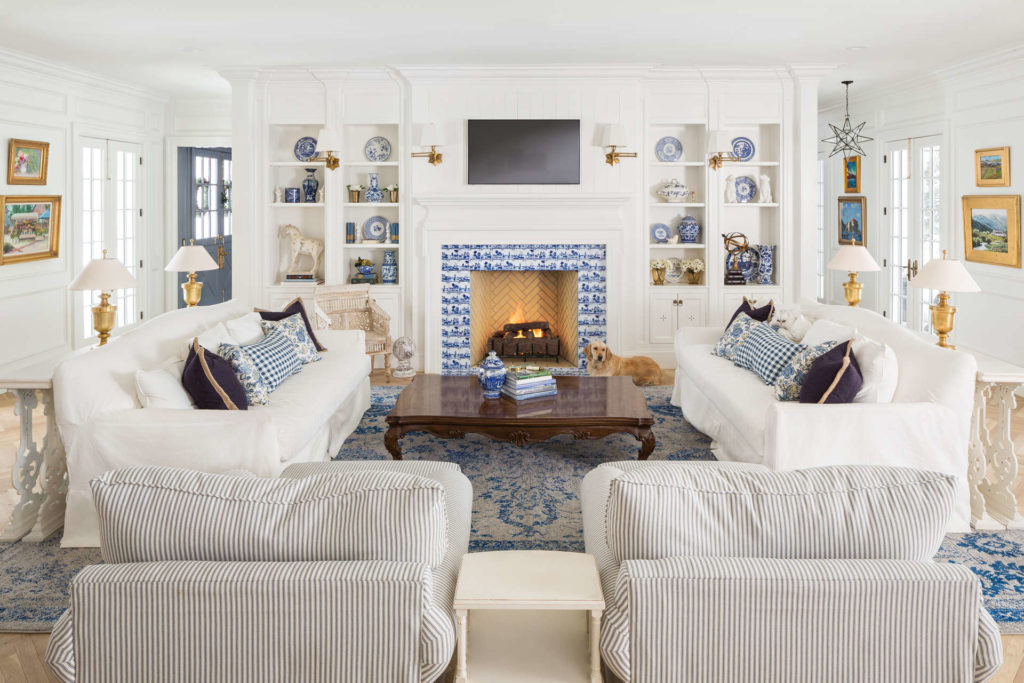 Furnishings With Multi Purpose Uses
Try using furniture with multiple uses. With subscription brands like The Everset, their furniture catalog features tons of great looking items that also solve these real problems. They have a hanging clothing rack that can turn any wall into a closet and many of their lamps have built in USB chargers. When it comes to living in a rental less can often mean more, more space, more organization, and more enjoyment from your home. Multi-purpose furniture proves a real problem solver so you can live your best minimalist life.