While there are many trends that come and go, there are those that remain tried and true. They are the trends that come with the ability to withstand the test of time. This timeless appeal is perhaps one of the reasons that Cara Fox and her team at The Fox Group have been so successful in building classic, timeless homes for over 15 years. Together with her husband Tom, Cara has created a firm, dedicated to keeping the classic design approaches of the 1800's alive and has developed some truly beautiful homes along the way. We had the unique privilege of discussing how Cara has built such an amazing practice while raising 5 children and balancing each build.
Thank you Cara for sharing your story with us. You have such an amazing portfolio and beautiful family. How did you get started? What's your secret to work-life balance?
So we got started about 15 years ago. We went to college to be a nurse and a lawyer but we both just had a passion for architecture and remodeling. We spent a lot of time back East and in Europe, studying scale and symmetry and started by doing big renovations of historic homes in Utah. While the homes weren't big, the renovations were big as we stripped them all the way down to the studs. We would finish one and then we would have a bunch of friends and family start asking us to do homes for them. That's when we realized that this could be a great career path for us as newlyweds.
Throughout the 15 years we've had five children and I've always taken a break after having each kid, but because this is such a passion of mine, I've always read every design magazine and kept up on the trends and what's happening. Now that our youngest is three, I've started working again full time. I have mom days and I have work days and that's how we try to balance it, so that the kids don't feel like they're ever getting half of me. We try to do no more than ten homes a year and right now we have a waitlist of two years, so we try to keep it really small. We try to stay in control of every project and never let any detail or site out of our control and I feel like that's how we've kept the quality and the detail really strong. We also have our own crews that do the construction as well as our in house design team.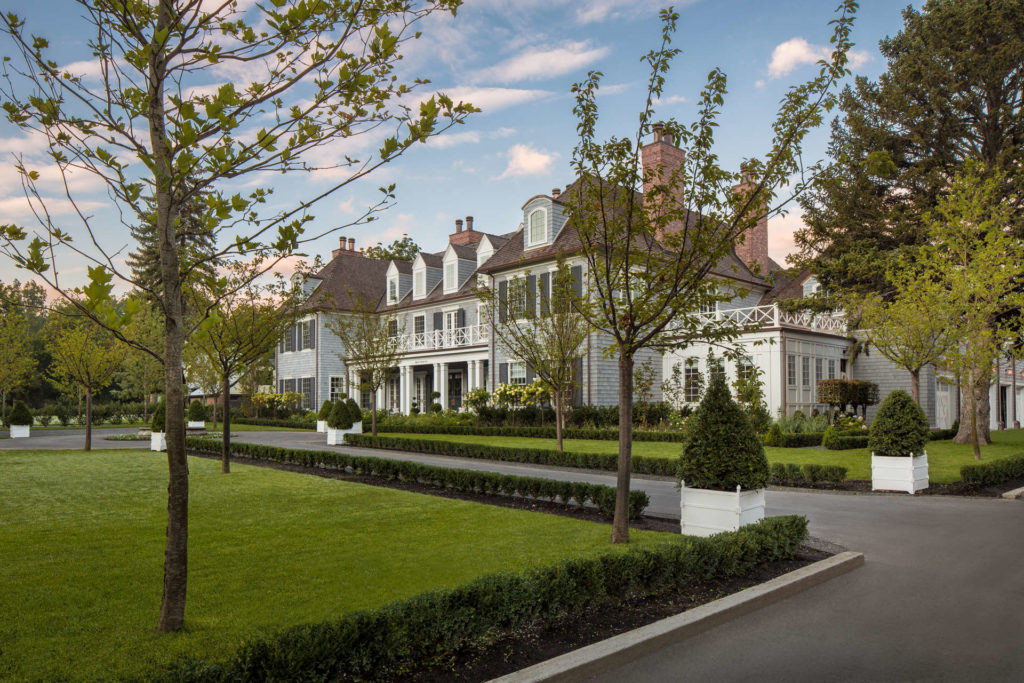 That's a really amazing story! It's great to see that you've been able to maintain a work-life balance as your career has grown. When it comes to design, what's your approach? Where do you get your inspiration?
We tend to do a lot of classic traditional design. I spent a lot of time in Boston after I graduated high school, so we get a lot of our inspiration from that era and style of homes from the 1800s. We spent about a month in Europe before we had our second child, so I'm constantly looking at the design details that will never go out of style, like the checkerboard floors from the 1600s. It's those details that are timeless. Usually our clients will come to us wanting that style, so that's why we do mostly classic and timeless homes. We've done a couple modern projects lately that have been really fun and kind of outside the box.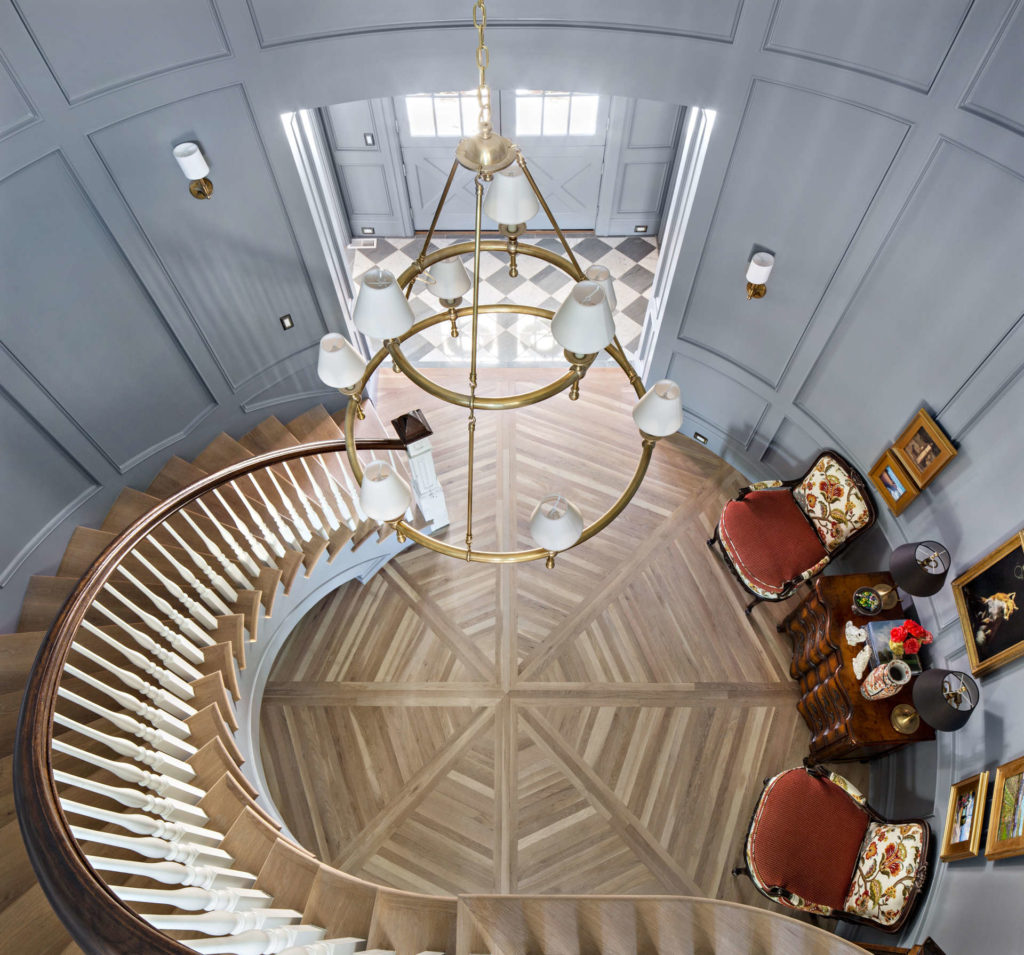 I really like how you've focused on those timeless design elements from the traditional European influences. Take us through your process from concept to completion. What should a client be prepared for?
We try to understand our clients. How they live, what rooms they spend the most time in, and what direction their lot faces, so that we can consider windows and how the light shines through. It's a big discovery process, that literally starts with pencil drawings and inspiration. We'll ask them to bring pictures of either homes of ours that they like, or homes throughout their travels that they love, and then we kind of go into a lot of discovery and trade floor plans back and forth, making sure that their home works the way that they live their life. Then from there, we'll draw up the final engineering plans and start construction. We aren't a fast builder and we kind of pride ourselves on not being an in and out builder. We take our time with every detail of the whole home. We usually take about 15 to 18 months to complete a home, because we just feel like the bitterness of a home just rushed will last longer for a client then let's say the extra three months that they wait, by choosing us over a quick in and out builder. So it's a process to get the quality of home and that type of detailing in it, but they're made to last a lifetime.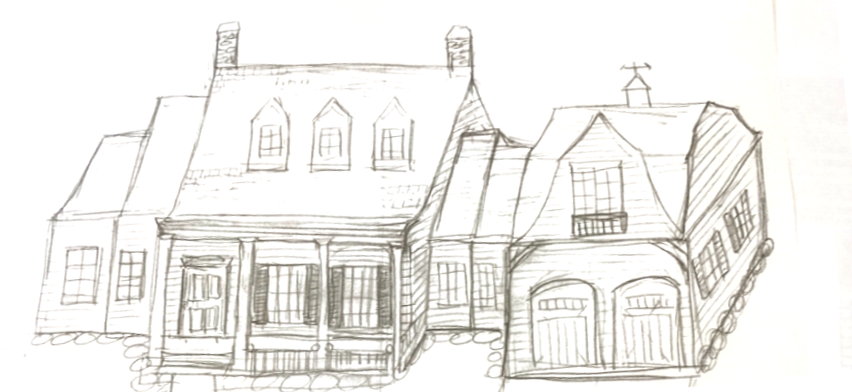 What a great approach. It is important to focus on all of the little details. What are some of your signature details that you always include in your homes?
With the exteriors, it's all about the classic balance of scale and proportions. Even down to our window grids, we stick with the classic lines. We have all of our windows the same size throughout the whole home and the dormers are never oversized. We use brick, shingles, and siding on most of our homes and while we've done only one plaster home ever, we tend to focus on using brick, shingles, and siding for most. We also try to stick with really authentic material too, so we don't use fake stone and we really don't even do pavers. We try to keep lighting fixtures pretty classic and I would say the most important thing is our built ins and our cabinetry. They all coincide with our trim work and wanes coating. We also do a lot of hardwood floors. I'm really impressed by the hardwood floors that they put in the homes in the 1800s, that just kind of almost harden and get more beautiful over time. Of course the checkerboard black and white floors are something we use a lot. We also use a lot of antiques, so you feel grounded in the home, with a sense of history, style, and individualism.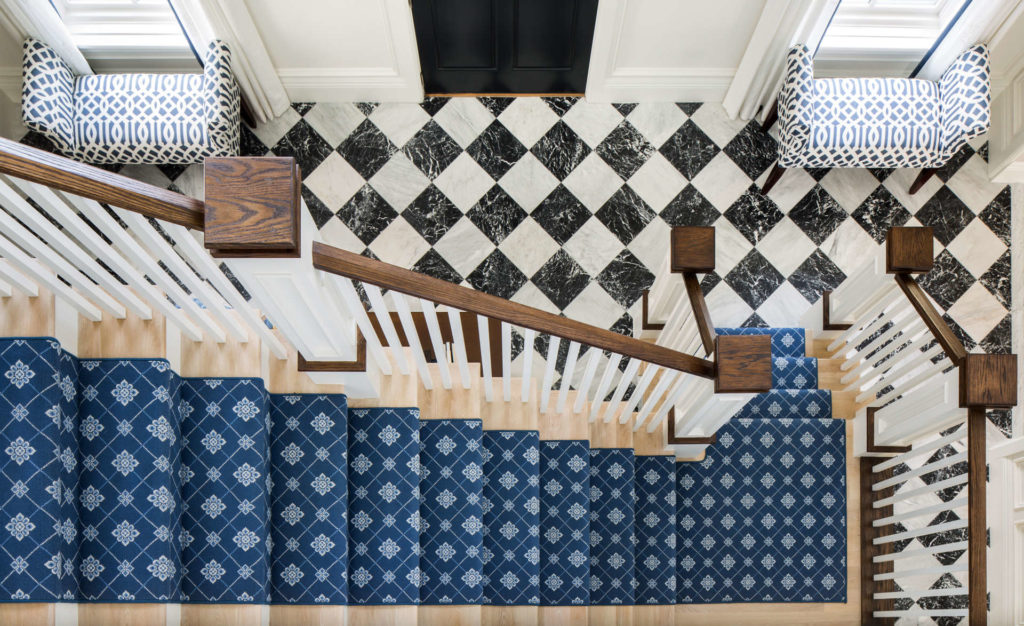 Amazing! When it comes to making a house feel more like a home, what are some of your tips?
I would say, I actually love putting a theme in the house. The client might love stars or a floral theme and you put those details everywhere, even down to a little floral cut out in the cabinetry, so it just kind of feels personal and cohesive throughout the whole house. We also love to personalize the furniture through the fabrics and we love to personalize the window treatments, so that they all flow together and tie in with each other. So when we're doing our inspiration boards, we make sure every fabric in the entire home actually lays out beautiful together, not just in a specific room, but the entire home feels cohesive and thought out and just kind of personal to the client. I think that's really how to make a house feel more like a home.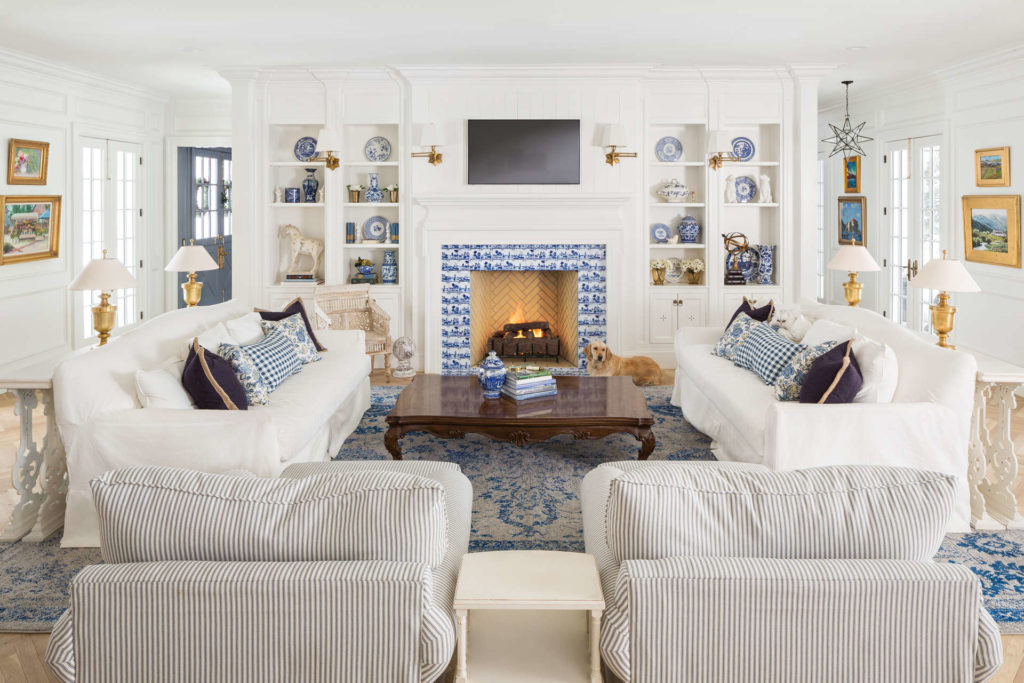 I agree, adding those personal touches and creating a cohesive theme throughout, really helps create a home. What other designers, architects, creative people, and firms are you inspired by at the moment?
So I would say Patrick Ahearn is an architect that we look up to a lot. He does a lot of work back East. Bunny Williams is probably one of my biggest inspirations. I love the new lines that Schumacher is coming out with. Just kind of how they've stayed classic but also relevant. We love to use La Cornue for appliances and CS Cabinetry is amazing with our custom cabinetry.
Perfect! For someone overwhelmed with starting a project, what piece of advice would you give them?
I would say, building a home is definitely a lot of work that people don't realize. There's a lot of attention and detail that go into making a beautiful home. But it's worth it. A long time ago I read the book "My Passion For Design" by Barbara Streisand, and in her first sentence, it says, "when you're building a home what can go wrong will go wrong". That's her philosophy in building homes and I've carried that with me, throughout the last decade. You just have to have a certain foresight when you build and when you design knowing that there's always bumps along the road. The other thing that I've always tried to keep in my head as a saying is that it's a privilege.
It's such a privilege to build and I think people get caught up when it gets hard or long. The process gets wearing, there's so many decisions to make, but you have to remember it's a privilege. Not a lot of people get to create their own home from scratch and so you have to keep that in mind the whole time and have gratitude and it will make the process a lot easier. We stay really close to our clients throughout the build and try to take all that pressure off and give them the encouragement and the foresight to know that it's going to all be worth it.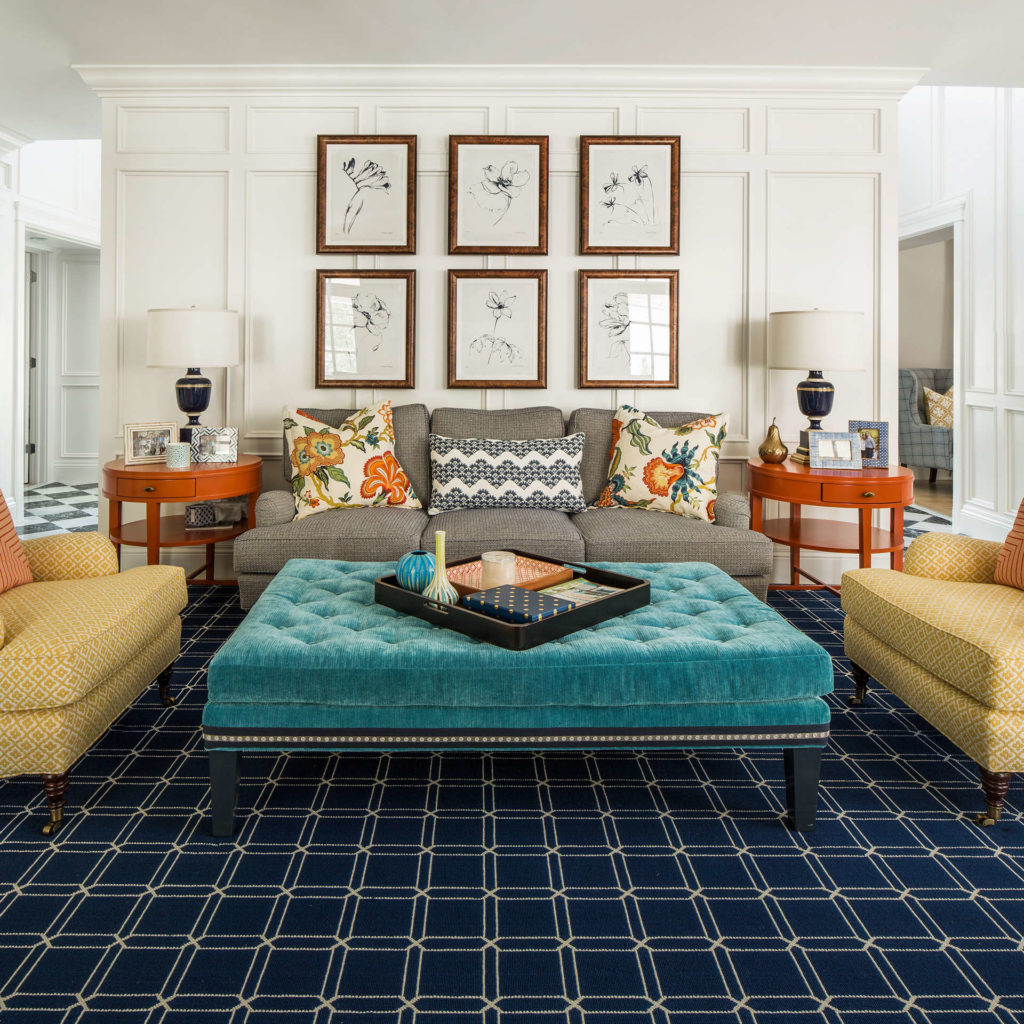 Really great advice! It is such a privilege to take part in a build or renovation and if you have that perspective set going in, when things get hard, you will always stay above water knowing that it will be worth it in the end. Thank you again Cara for sharing such great thoughts with us.
For more on Cara and The Fox Group please visit their website and Instagram profile.