By their very definition, Naked Kitchens start each project by going back to the basics. They design and build each kitchen from raw materials in their own unique manufacturing facility. Producing some of the most exciting kitchen projects, they are frequently breaking new ground in kitchen design. We had the privilege to speak with Lottie McCrostie about the unique approach Naked takes to create a one-of-a-kind kitchen.
Thank you Lottie for taking the time to tell us more about Naked Kitchens. Take us through the process of creating a Naked Kitchen.
Naked Kitchens' journey began back in 2011. This is when our parent company Norfolk Oak (who still creates all our solid wood worktops) noticed a gap in the market for truly bespoke, great-quality kitchens at a reasonable price. We design and sell our kitchens that are built by our team here in North Norfolk.
Our workshop and showroom are based in two old WWII Aircraft Hangars. It gives us the space we need for the very latest innovation in kitchen manufacturing. We can design an entire bespoke kitchen in a matter of hours, but that's not even the real magic. It's the process where the same design software drives our machining centers. Literally from screen to machine. We now run three CNC machines every day. That ensures all our products are cut with bespoke precision to make our kitchens perfect. We map all our carcass panels onto large sheets of hardwood meaning our wastage is less than 5%. A bit like mapping cookie cutters onto rolled-out cookie dough!
Any small pieces of wood that are leftover are used in our biomass boiler to heat our hangars. The sawdust produced by our machines is removed by our state-of-the-art extraction systems. Then they are carried across our workshops to be compacted on-site and turned into briquettes for customers' wood burners. Even less waste!
However, our woodwork machines are not where our innovation ends. We have invested in two paint lines that are some of the largest in the country. The program of robotic spray ensures that the paint coat is even and waste levels are at a minimum. We spend hours testing the consistency of the paint to make sure it is hard enough to withstand scratches and dents. However, it should be soft enough that it won't chip or flake off. After spraying, we cure our products with underwater heaters and UV lighting. This ensures they are harder wearing than any other painted kitchens on the market.
Each item from our production line and workshop has a hand-finish and rigid assessment to ensure the best quality product. It is this level of detail that ensures our customers are 100% in love with their new kitchen.
That's amazing to hear that such old world craftsmanship still exists. Take us through the different options from Naked kitchens. From projects, to cabinets, and doors, how are they different?
The great thing about Naked Kitchens is that we have something to offer everyone no matter what their budget is. Naked Kitchens is where our business began. We wanted to offer completely bespoke kitchens without the astronomical designer price tag. Our Naked Kitchen carcasses are designed from Oak or Walnut Veneered Plywood. That makes them amazingly strong and hard-wearing. We even balanced a Land Rover Defender 110 on top of them to prove this! Average quotes for a Naked Kitchen cost between £15,000-£30,000. We also offer a design service at a small offset table fee. This is relevant if you are starting from a blank canvas or need our expert designers' advice!
At the top end of our Naked Kitchens service, we also offer 'Naked Projects' which are unique, one-off kitchen designs. The prices for our Projects start at £30,000. Naked Projects are the ultimate expression of individuality; a level of bespoke rarely found. We examine every element to produce simply the most exquisite kitchens on the planet.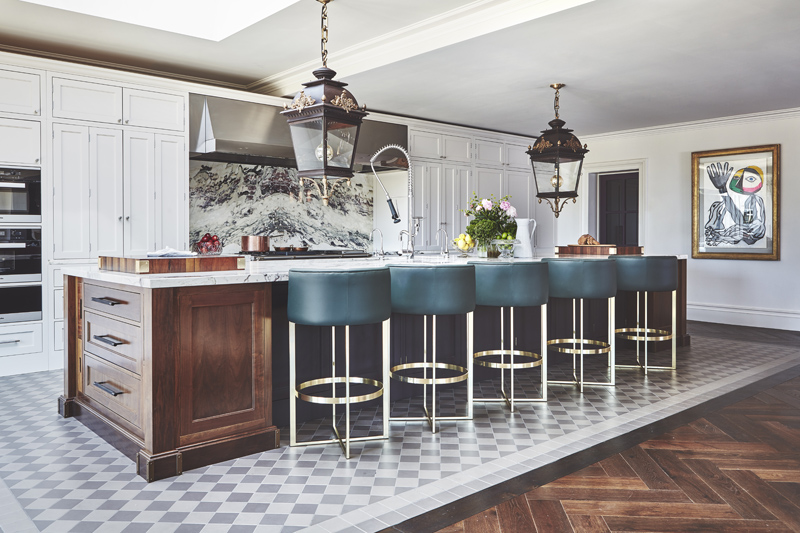 Next in our range, we have Naked Cabinets, which cost between £6,000-£15,000 for all your kitchen cabinetry. Customers can design and order all their cabinets online to save time and money. Whilst the carcasses are made from a slightly different material (Egger) to our higher-end products from Naked Kitchens and Projects, they are built to last and still incredibly strong.
At the base of our range, we have Naked Doors. This range costs around £1,000-£6,000 on average to purchase doors for an entire kitchen. We can create amazing quality Shaker and Slab doors that customers can design in bespoke sizes and colors and order online. You can use this to update your existing kitchen or to fit cabinets purchased from another supplier such as Howdens or IKEA. We feel that no matter how much our customers are spending on our products they will receive some of the best quality kitchens. The bespoke nature of our services also means that we can turn our clients' dream kitchens into reality.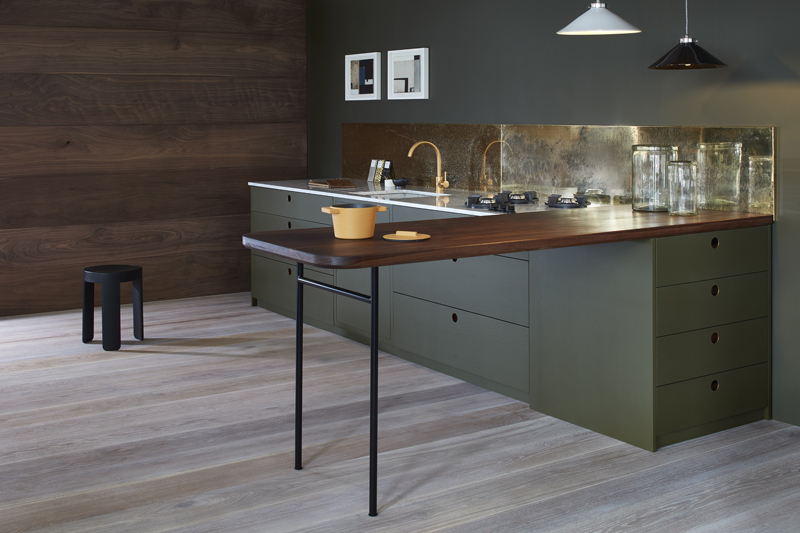 Wow! I think it's amazing that you have all these different options. It's really a perfect opportunity for anyone to have a great designed kitchen, no matter their budget. When it comes to helping clients design a kitchen, what is your approach?
Naked Kitchens takes Best-of-British design to the next level. We apply inspiration from British heritage and the beauty of the Norfolk countryside in a lot of our designs. The real magic of our bespoke kitchens. However, it is the way we can integrate traditional compositions with a unique contemporary twist. Our brand is always looking to push design boundaries, be it through color, composition, or layout. We always recommend that our customers come and visit our base here in Norfolk. That is because the showroom and workshop are amazing for design inspiration. However, if this is not possible for you, we can organize a virtual tour with our designers over Skype.
Depending on the level of assistance our customers require, we offer design or render services. Both are subject to charges. owever, if the client chooses to move ahead with an order from us, we will offset the service cost against the order total. If we have a customer who has an exact design in mind that they may have seen on Instagram, Pinterest, or even in their friend's kitchen; and does not need our design services; we can fully accommodate this and our specially trained designers can integrate their ideas into a CAD design to fit the specification of their room.
No matter which kitchen service our clients are ordering from, we are available to speak to at every step of the way. No question is ever a silly question to us, so we are always happy to help with any queries you may have during the design, ordering, production, delivery, or assembling stage.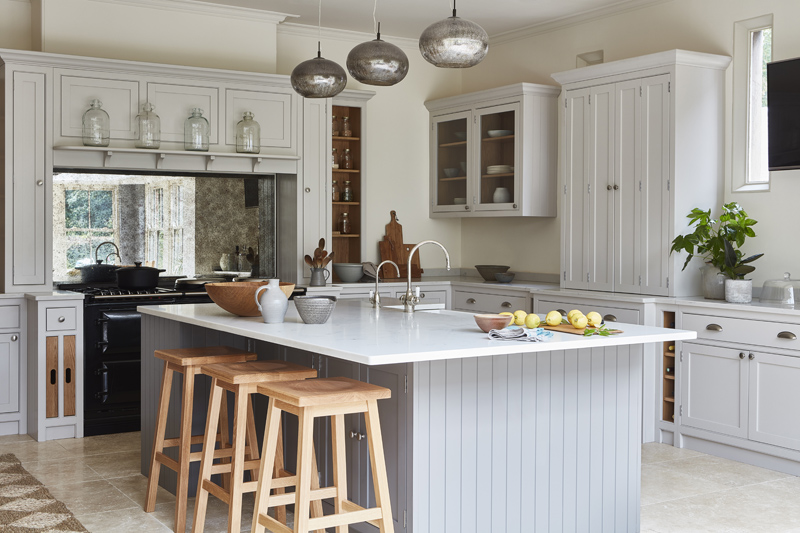 I think the amount of customization that Naked Kitchens can offer by being an end to end solution is truly unique. It's interesting that no matter how far we advance, we still desire well crafted, quality projects and I think Naked offers a solution for this void in the mass market. Kitchens also play a vital role in making a house feel more like a home. What is your approach for making a house feel more like a home?
Our clients often question at the design stage, how to make their kitchen work both for spending time as a family and for entertaining friends. A lot of customers want their kitchens to feel inviting, but not overreach into the other entertaining and family rooms of the house. We can build large units to hide away appliances, such as your television, to keep your kitchen looking clutter-free when they are not in use or when guests visit.
A great way to make your kitchen more homely is to incorporate an island within your design. Whether you are keeping a watchful eye on your children doing their homework as you cook, sharing a delicious meal with your loved ones, or even having a good old gossip over a glass of wine, an island can be the perfect solution! They also provide a wonderful centerpiece and storage haven for your kitchen. If the space does not allow for an entire island it is always worth considering adding a smaller breakfast bar to your cabinetry as an equally practical alternative.
Creating an inviting, bright space by maximizing natural light and emphasizing color is always one of our high priorities to make a kitchen feel like home. Colors and textures throughout a kitchen can work together to create a space that is unique to you and your family. If you want the space to feel truly homely it is important to pick a style that will feel 'lived-in' and most of all, practical for your lifestyle.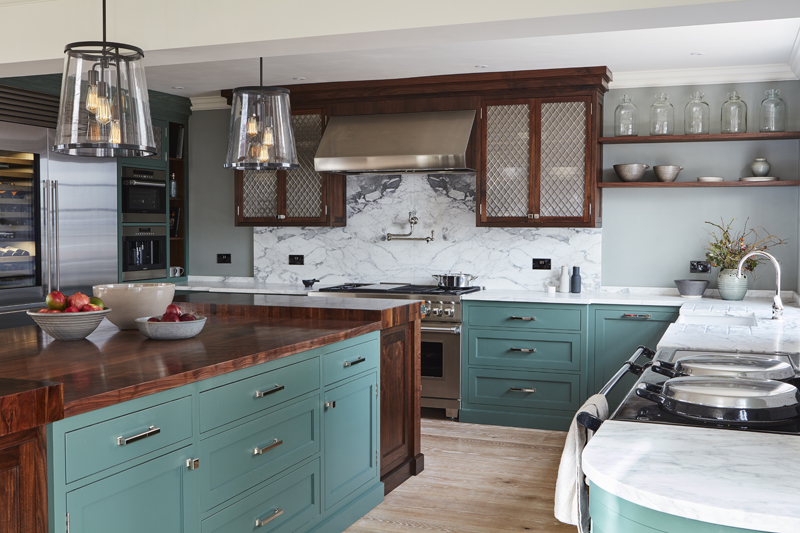 I do believe a kitchen island is truly a way to make your house a home. It's creating that gathering place, a communal table that can be shared among friends and family. The centerpiece of the space that helps transition food to table perfectly. What are your "Golden Rules" for the perfect kitchen design?
When working on a kitchen design for a client we tend to give them three basic rules. Firstly, think about your work triangle – this is the route you will use the most when cooking; between your refrigerator, cooker and sink. If you ensure these appliances are quick to move between it will make your life so much easier in the long run.
Secondly, pick a design that will actually fit in the space you have. We like to make sure there is at least a meter between pinch points in the kitchen, so you don't end up crashing into each other if more than one person is using the kitchen at a time. For example, if the room feels too small for an island, don't try to squash one in because, in the long run, it will get on your nerves! Sometimes less is more and reducing the number of cabinets you are squeezing into the kitchen, it will make the room feel much bigger.
Lastly, and probably our most important rule of all, is sometimes it is good to break the rules! We love working with our customers to push design boundaries. Be it through mixing and matching colors, textures, appliances, or even straying from the traditional kitchen layout, sometimes the most impressive and eye-catching kitchen designs are born when rules are broken, so think outside the box…or kitchen!
Those are really great rules to follow and something that I think is unique for Naked to focus on, because of your involvement in design and manufacturing. It allows you to consider every detail without being constrained to a pre-built structure. What trends are you seeing in kitchen design that you are loving?
We'd say that the biggest trend we are seeing and loving in kitchen design is color, colour, and more color! Whilst we will always love to design the classic cream-painted Shaker kitchens, more customers than ever are exploring the use of bright colours for their cabinets or even using several different colours within their kitchen. Pink, yellow and green are colours that people request more and more in our kitchen designs. The beauty of Naked Kitchens is that a customer can have their cabinets colour matched to any paint colour they have seen so the possibilities really are endless.
We are also seeing metallic splashbacks increasing in popularity and almost every week we get an inquiry about them! Hence, we produce these ourselves in Brass or Copper and they can be hand-aged, patinated, and lacquered here in our workshop. We love them as they make a kitchen look very eye-catching and the real beauty of them is that as they are hand-finished, everyone we produce is truly unique.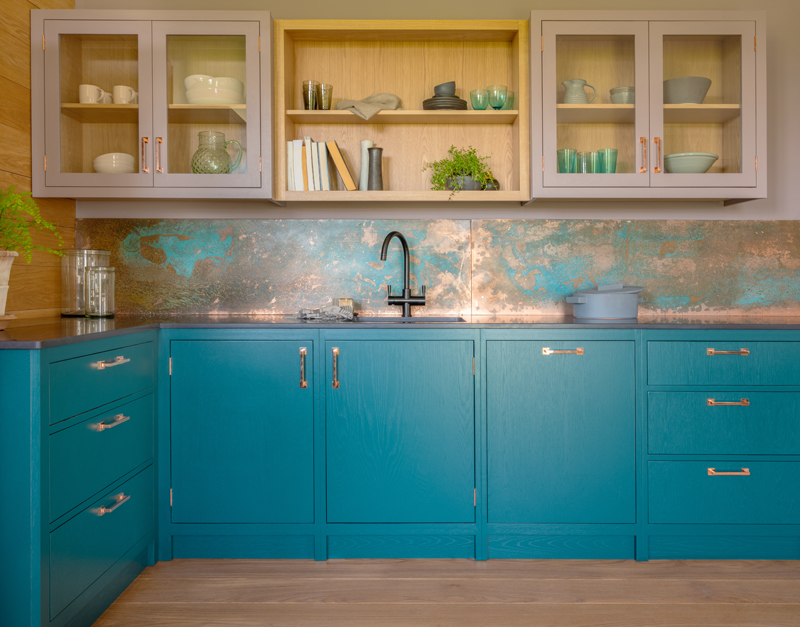 I completely agree! Color is making a HUGE comeback and definitely going to keep growing! I do believe metallic splashbacks will be trending very soon! Thank you again Lottie for sharing all about Naked Kitchens with us!
For more on Naked Kitchens please visit their Instagram profile and website.