Kele Dobrinski and Christina Valencia spent over two decades building impeccable brands. They are a world-class leader for global campaigns for some of the country's most innovative companies. Kele also co-founded the start-up PICT, which was later acquired by Popsugar. After spending a year renovating their rundown Spanish revival in the heart of Sacramento, they realized that they could tell the same stories they've told for brands through physical space. Hence, they launched their design studio Colossus Mfg. Christina was gracious enough to discuss this and so much more. We hope you enjoy it!
Thank you Christina for spending some time and sharing your thoughts with us. Let's start by discussing how you got started?
Before we started Colossus Mfg., Kele and I had worked in advertising and communications in San Francisco and New York City. We loved our work. However, after more than a decade of living in a big city, we decided to move to Sacramento. We wanted to raise our boys and build a community closer to family. We found a rundown 1935 Spanish revival home that was in massive need of a full overhaul. And spent the next year gutting it and giving it a fresh makeover. 

During the remodeling process, we realized that what we were doing for a physical space wasn't different from previous work. We were telling its unique story. Drawing upon the architecture and location of the home, then blending in an updated color palette. We did this all while considering spatial needs required for our family of five. Going through that process, we realized that even during the worst of jobs (hello taping and texturing) we really enjoyed working together. It was enjoyable because we each brought a different perspective and skillset to the table. Seeing the finished project come together gave us the confidence to start our own design shop. Hence, we focused on storytelling through physical spaces.
That's amazing! What a unique opportunity to bring together your passion for storytelling and design into a whole new medium. Where do you get your design inspiration and what is your process like from concept to completion?
We treat each project that we work on like its own brand launch. It's the creative director and copywriter inside of us that just won't quit! We start by defining the overarching visual direction for the project. It helps set the tone and voice for all its materiality. We explore 2-3 directions based on the architecture of the home, the clients' needs, and our own creative vision. then from there together we hone in a singular direction, which serves as a framework for all future design decisions. 
Once we set a direction, Pinterest is a great tool for digital planning and Instagram is an excellent way to unearth inspiration from artists far and wide. We always look for inspiration far beyond just from physical interiors across the globe. Oftentimes physical objects and art can be the most telling of a period. For instance, in our recently completed A-frame cabin near Tahoe, we derived a master bathroom palette. We did this from old 70's ski gloves after coming across a pair on Etsy. 
When it comes to ordering materials and finishing touches, it helps to have that initial visual direction Yes, you (or a client) might love a midcentury color-blocked pillow, but if we've settled on Hollywood Chic bungalow as our visual direction, then it's staying on the shelf. 
You also really need to see and feel everything before you decide what to put in someone's home or restaurant. You quickly learn that materials in photos oftentimes look completely different in real life. Hence, we have sampled all over our office, where you'll find fabric sitting next to tile sitting next to paint chips. Seeing is believing! We also always keep in mind that people have to actually live in these spaces, so while bone-white countertops look like a million bucks in a photo, they are a nightmare to keep clean as they show every crumb.
That's a really great and unique approach! Staying true to the story and seeing everything before making a final decision is a must, especially with interior finishes and materials. What are a few projects you've really enjoyed?
We recently reimagined a Scottsdale adobe – turning the place from a dilapidated, drab home into a desert glam Airbnb. The colorful, bold design was inspired by 70's rock and roll, which was contrasted against warm, earthy tones throughout to give homage to the surrounding desert. We also added architectural details back into the space such as heavily textured stucco, big archways, and Saltillo tile floors to punch up the original character.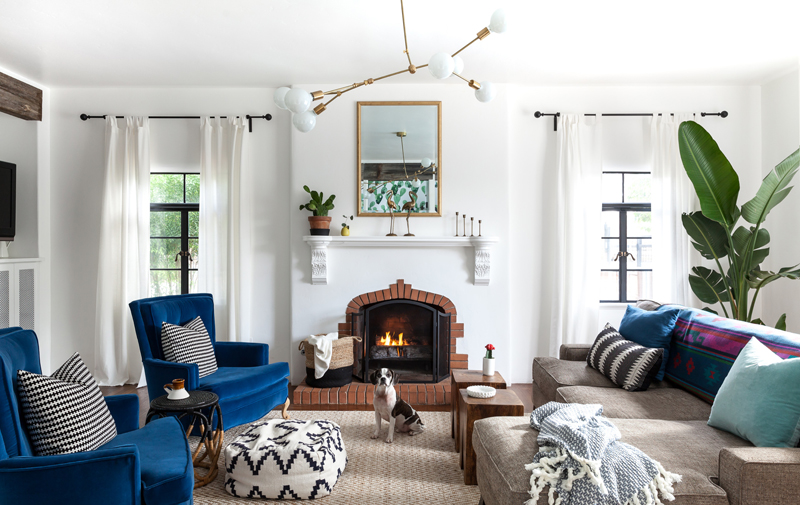 Another project we really enjoyed was working with the team behind the highly-regarded restaurant Canon in East Sacramento to build out their patio, which almost doubled the size of their space. We wanted to contrast the dark dinner vibes inside the space with brighter, more casual hues for the exterior, so we added a huge firepit covered in warm blue zellige tile with bench seating, brought in graphic marble cocktail tables, and added cozy mahogany booths giving people places they'd want to linger for longer. Crazily enough, there are not a ton of loungy patios in Sacramento, despite having amazing weather 9 months of the year, so we wanted to give people a reason to dine outside more often!
Those sound like really fun, exciting projects! What other designers, architects, or creative people are you inspired by at the moment?
Ah, so many to list! As designers that work across a range of projects, from residential to commercial to branding, we are always inspired by people who can stretch themselves to work across different types of projects. Robert McKinley and his work – from an Airbnb in Montauk to the amazing Hotel Joaquin, is very inspirational. Also, Basile Studio in San Diego has raised the bar for commercial spaces in a big way, their attention (obsession) to detail is incredible.
Those are two really great designers! When it comes to making a house a home, what are some of your tips?
It's tempting to see a photo of a beautiful space online or in a magazine and rush out to recreate it, but if you want to love the space, it needs to speak to you and have meaning. Our most favorite pieces in our home are the ones that we have found vintage shopping or the ones we were handed down from Kele's grandmother. The things that tell a story are what make your house a home, not a museum.
That's becoming more and more common. The mix of vintage furniture with contemporary design creates a truly timeless space. With regards to decor elements, what are some of your favorite brands to work with for materials and furnishings?
Clé Tile is a favorite of ours. Their products are beautiful and timeless, and their customer service is great. We use a lot of vintage and upcycled pieces in our projects, and while not a brand, having a good upholsterer you can rely on has been a game-changer for us.
Couldn't agree more! For someone looking to make an impact on a budget or who is not ready for a whole remodel, what are a few things anyone can do to instantly update a space?
Pillows and plants. Both are inexpensive and can completely transform a space. Although if you don't have a green thumb, succulents you can't kill immediately are more ideal.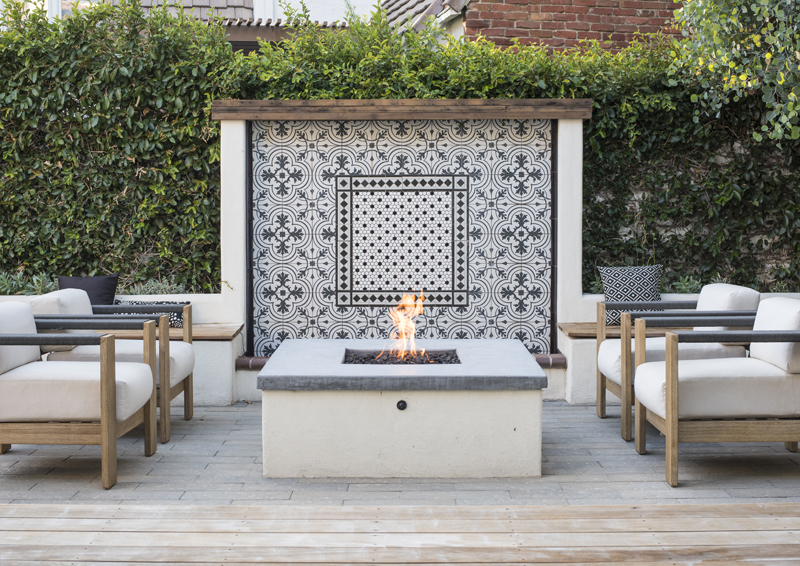 Those are really great options. Simple but effective. For those that are ready to start a remodel or renovation project, what are three tips you would tell them to consider before starting?
Take the time to plan before you dive in. Everyone wants to rush straight to material selection and picking out paint colors, but if you take the time to think about your project holistically and decide what story you want your home (or commercial space) to tell, then make your decisions based on that story, not on trends. We've seen it time and again, a client thinks the couch that they bought on sale will be perfect, before considering the other elements in the room, then they are ultimately unhappy with how they all come together. Planning and patience pay off!
Consider your budget and be honest with what you can and can't afford. The internet is incredible for inspiration but notorious for crushing dreams. Those waterfall marble countertops that you see people using for kitchen islands. No doubt they are beyond gorgeous, but they are also super pricey as they require a ton of top-grade material. Discuss your overall budget with your designer and general contractor at the beginning of your project, to achieve realistic outcomes.
If you're part of a pair, discuss your top desires before embarking on your project, to create something you ultimately both want. If you live with someone else, that person might not need hardwood flooring the same way you do, but they might feel that they need an open concept kitchen. It's a space you both need to live in – and love – for a long time, so if you can settle on each of your top must-haves in advance, and negotiate between yourselves to find a happy medium, then you'll both be happier in the long run.
That is really great advice! Thank you again Christina for sharing your thoughts with us.
To find out more about Christina and Kele and their amazing work, please visit their website or find them on Instagram.