Kate Marker founded Kate Marker Interiors in 2007 with big ideas to grow. An artist at heart, Kate began her design career after studying Fine Arts at Illinois State University and Harrington College of Design, where she received her degree in Interior Design. Her style is fresh and timeless and she oversees all design projects, to ensure they are a reflection of the client while incorporating the KMI aesthetic. With endless ideas & inspiration, a relentless work ethic, unwavering vision, and a great sense of humor, Kate has built an amazing design practice with an amazing design team. We discuss more of this and the firm's unique approach to projects in our discussion below. Enjoy!
Thank you Kate for taking the time to share your thoughts with us. Tell us about Kate Marker Interiors. Where do you draw your inspiration from?
We are a full-service boutique design firm that has grown organically from working out of my home into a design studio and showroom with a team of seven. Each day is busy and different for our team now comprised of junior and senior designers, design assistants, and an office manager. Our style is modern and fresh, yet approachable, and always balanced with a bit of vintage, to achieve a timeless look.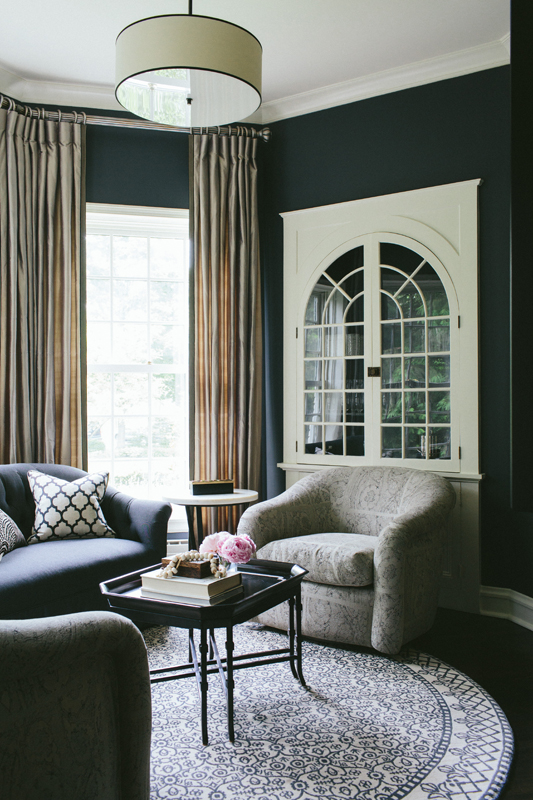 That's amazing! I like how you say your design style is modern and fresh, yet approachable. What are the design trends you are loving in 2019? What do you see are the next big design trends?
Natural, raw materials. "Less is more!" We love using well-selected building materials that can be exposed and placed to add character and interest to a home. Exposed brick, reclaimed beams, wide plank flooring, wood-paneled walls in a natural finish, are great.
The next big design trends that we see are – neutrals always, but punctuated with more saturated yet faded colors (terra cotta for a slightly stronger presence than blush, has been going strong for a few years now and saffron) and we are loving the embrace of live plants and succulents as decor.
Natural, raw materials are definitely having a moment. Color is also beginning to have a bigger moment. When it comes to creating a home, what is your approach?
We want to customize each space we design for clients to accurately reflect what they are drawn to while mixing our own aesthetic that blends with our brand. The utmost importance is to ensure places are as useable as they are beautiful – this is the key to client satisfaction.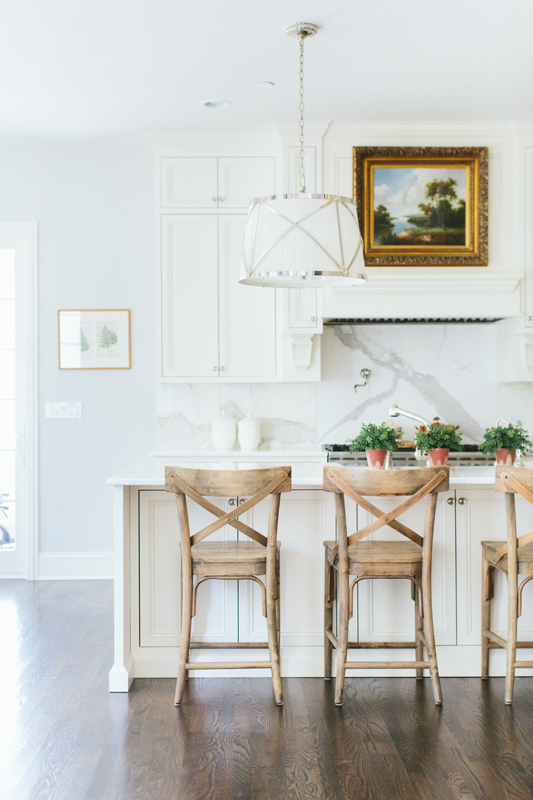 That is a great approach. Customizing each space to each client's unique needs, while making it functionally beautiful, is one of the great strengths of your practice. For materials and furnishings, what are some of your favorite brands to work with?
We love LEE Industries for their consistently high quality upholstered goods, Visual Comfort for lighting that have rich, beautiful finishes, and we fell in love with the antique market in Round Top, Texas, for one-of-a-kind pieces that add character and patina to any space!
Those are really great brands! Tell us more about your personal line Kate Marker Home. What is the look and feel of the collection? Is the line available nationally?
We have selected some of our favorite accessories, art, candles, and pillows, to offer to our followers and have a continuously updated gallery of new and vintage rugs that we curate from around the world. A vintage runner or layered rug can be the final touch that completely pulls a room together! We can ship most items nationally!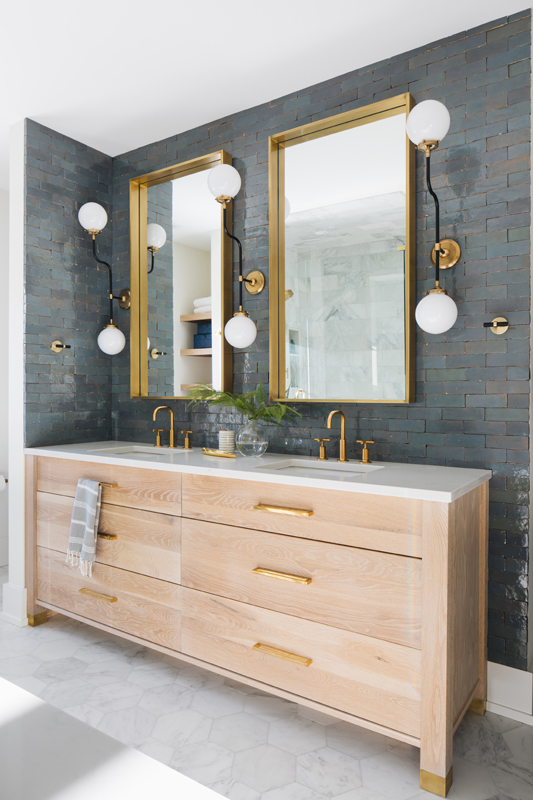 That's really great! Before a client starts an interior project with you, what are the three tips you would give them?
Trust us!

The sum is greater than the parts, don't scrutinize each piece individually, as we design with a comprehensive end result in mind.

Be open to suggestions and expanding your style – going back to Tip #1: Trust Us 🙂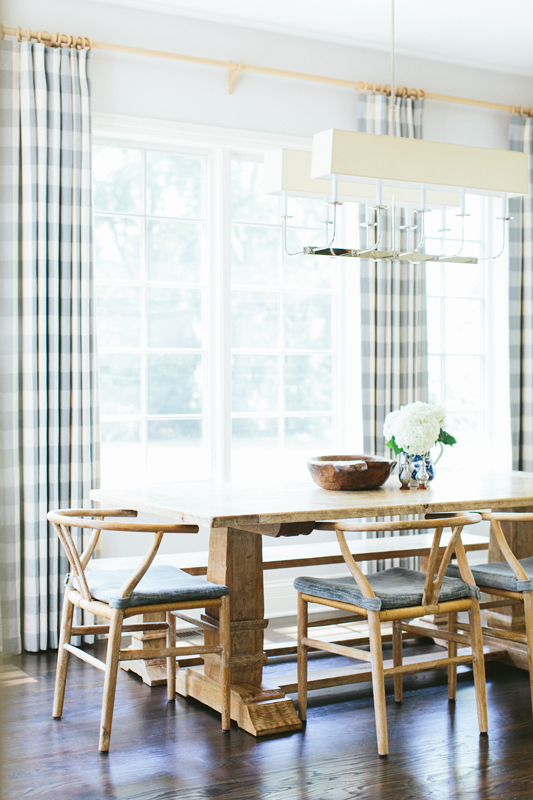 Tip number two is my favorite, as we often forget that the sum is greater than the parts and can sometimes lose sight of the whole picture, when going through a design project. Tell us about a current project. What has challenged you? What has been particularly enjoyable?
Our Leo Cottage in Michigan! It was both a challenge and a very enjoyable experience, flip-flopping between those two descriptors depending on the day, while we were in the midst of it! The challenge was the tight timeline and extent of work involved to bring KMI style, with its thorough renovation and expanded scope, to the cottage and making design decisions for both my family, KMI followers, and future renters to enjoy, all the while running our day-to-day design business!
I was over budget and outside of my timeline – the stereotypical pitfalls of a renovation. But I gave it 110% as we do any KMI project we take on and shared the "behind the scenes" with our Instagram followers. This quaint cottage surrounded by beautiful gardens was always inspiring, and that made the implementation of helping it truly shine – along with sharing it with our girls upon completion – so gratifying and enjoyable!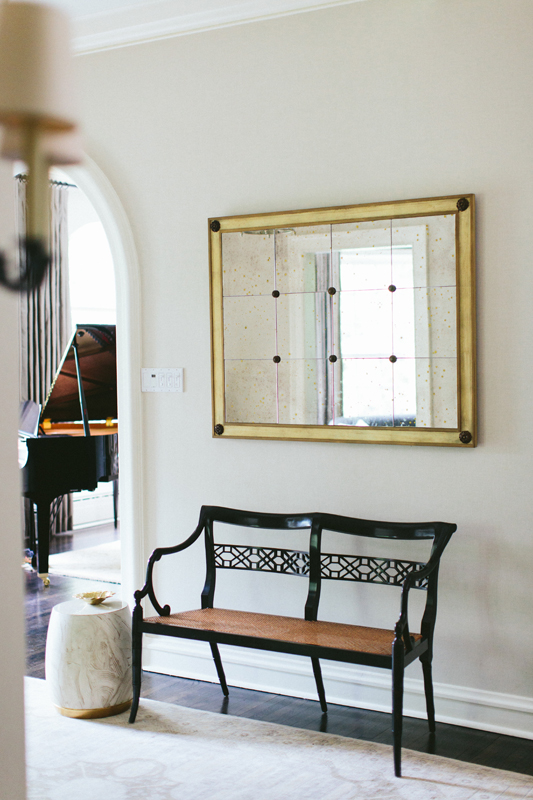 That's amazing. Congratulations on such a great project! What other designers, architects, creative people, and firms are you inspired by at the moment?
We are always impressed with the Khoury-Vogt team in Alys Beach, Florida, Nicole Davis, Kate Lester Interiors, Amber Interiors, Lauren Liess, and Cortney Bishop Design.
I agree. Those are amazing firms. Thank you again Kate for taking the time to share your thoughts with us.
For more information about Kate Marker Interiors and Kate Marker Home, please visit her website and Instagram profile.