Christine Gummersall is a mom, wife, registered nurse, fitness lover, and most importantly a DIYer. Growing up as an apprentice for her father's plumbing business, she quickly applied her skills as an adult, transforming over three homes. Constantly looking for inspiration, Christine realized that most DIY projects don't show the detailed approach to achieve the end result and therefore created Honey Built Home, a resource to demonstrate how to achieve the visible results. Here she shares some of her DIY tips and tricks.
Tell us about Honey Built Home. How did you get started? What is the most important thing you've learned from your projects?
Honey Built Home was created a few years ago in an attempt to start sharing my DIY projects and tutorials, but it wasn't until this past January that I actively started posting and sharing projects. I wanted to have a place for other women to feel empowered to use power tools and create the home of their dreams, without having to hire out experts or wait for their husbands to have time.  I have been remodeling and DIYing for the past 9 years from tiling to painting to building and all the things in between. The most important thing I've learned is pressing on through a project even though in the middle of a project, I usually feel like I'm in over my head or made a bad choice by starting the project…. I press on and the finished product is usually better than I could have imagined.  
What are your favorite tips/hacks for painting that you implement in Honey Built Home?
Tape with plastic drop cloth attached is my go-to painting supply. It cuts downtime and prep work significantly. I personally love short-handled 2 1/2" brushes, I feel less fatigue and feel like I get cleaner lines with this style of brush and I ALWAYS wash my brushes right after I use them. Even if I will come back in a few hours to touch up, I wash them completely. This has helped keep my bristles perfect and I get good use out of my brush for years. Wrap my paint tray with press and seal so I can easily remove and toss after a project, but reuse the paint tray quickly for another color. I use a 5 in 1 paint tool to scrape all the remaining paint off of my paint rollers before washing them. 
What are some of your favorite projects of Honey Built Home?
My favorite project would be my daughter's room. Her herringbone wall made such an impact and her playhouse under the stairs is such a fun component. She frequently plays house and I love that both projects were fairly simple to complete and budget-friendly as well. 
What are your favorite tips/hacks for tiling?
Tiling is a tedious job. I love laying out my tile and cutting everything all at once, then labeling the tile with a pencil by number (1-1, 1-2, 1-3 for row and tile number in that row), so I know right where it's supposed to go once I lay the adhesive down. Using Musclebound on backsplash/wall projects is a MAJOR time saver. It's basically an adhesive sticky mat that eliminates the need for thin-set on walls. 
What are your tips for making a house feel more like a home?
I think you have to always remain true to what you love. Decorating can sometimes take a long time, but if you are only buying pieces you love, your house will feel like such a welcoming and relaxing space. Don't just buy things to fill a space.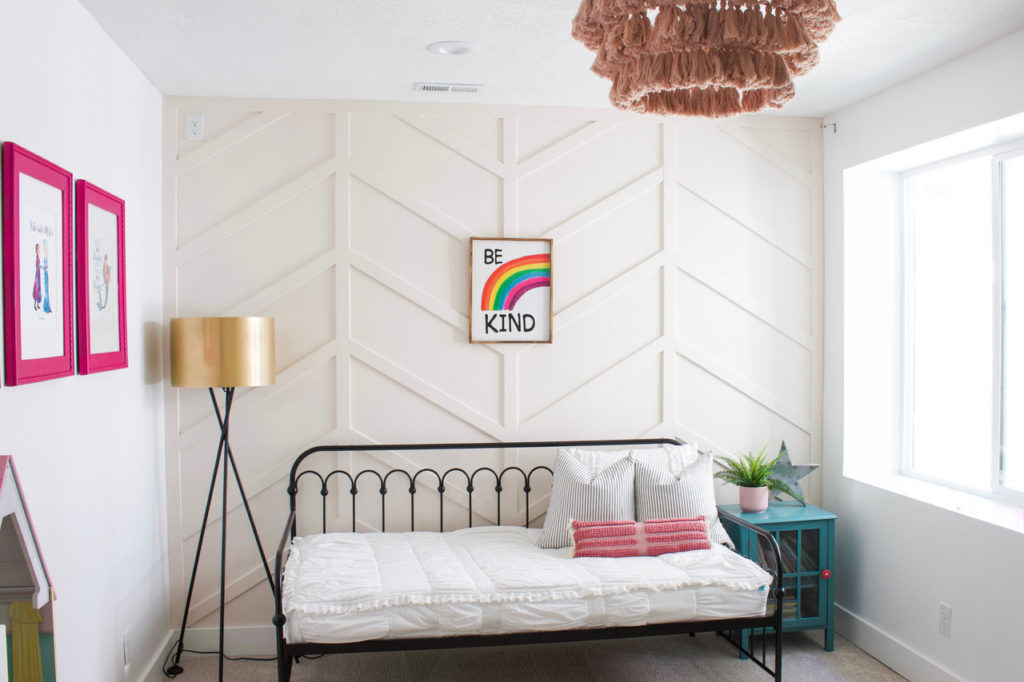 What are your tips/hacks for the perfect bathroom?
Start with your focal point, whether it's tile, wall color, or wallpaper, and find other components that you love. Because bathrooms are such small spaces, you can be bold and branch out of your norm to create a really cool space. Don't be afraid to mix textures and patterns.
For someone just getting started or wanting to do more projects on their own, what are 3 simple projects they can start with that make a big impact?
PAINT! Whether it's an accent wall, pop of color, or covering the whole space. Such a transformation can be made with paint alone and its fairly inexpensive.
Use the tools you have or borrow tools from a family member or friend and just get started. You don't need to have a full workshop of all the latest tools.
Start with a small project that should take 2-3 hours max. Once you've conquered that project, the high, will motivate you to try harder and more time consuming projects and you'll slowly advance from novice to an advanced DIYer.
What are your tips for making the most of any budget?
Use materials/furniture/decor that is already in your home that may need a facelift. Search websites like Amazon, Cost Plus World Market, and Wayfair for products that look similar, but are significantly cheaper than designer products.
Did you have a favorite tip? Comment below!