Taylor Jones, aka @laplantgirl is LA's all star interior garden designer. The daughter of a landscape designer, her dad started Jones Landscapes in Los Angeles. Having fallen in love with the industry over the years, Taylor decided to focus on interior styling with plants and builds on her father's legacy by connecting the exterior to the interior. We sit down with Taylor and dive deeper into her love for plants, her tips and tricks, and her some of the creative people she draws inspiration from.
1. Tell us more about Jones Landscapes and your work as LA's Plant Girl.
I'm the daughter of a landscape designer, (hence my love for great plant design) but, it took years for me to really fall in love and appreciate the industry that I'm now apart of. My dad, Rob Jones, started Jones Landscapes LA over twenty years ago; as long as I can remember, I've been immersed in the plant industry! I've always loved plants and great design but growing up I never thought of it as a career path. Let's just say growing up consisted of a few things. For starters my dad would have my younger brother and sister and I pick a plant a week to draw and learn it's common / scientific names. Secondly, no matter if we were in or around LA or on vacation, when my dad saw a nursery, we had to stop and check it out. Lastly, if one of my dad's projects were ever on the way to somewhere we were going, we'd have to drive by and see how it was coming along and if it wasn't on the way, we usually still made a detour! I didn't appreciate his expertise until a few years ago when I realized how incredible this  industry is and how plants bring so much life and beauty into a home. I've been for the most part, born into it and I love working in our family business!
My work with Jones Landscapes LA consists of designing tabletop succulent/ cacti arrangements (both indoor and outdoor) and sourcing the right pots for each client's aesthetic and style of home. I've designed a few small gardens but for the most part my dad designs all of our projects and I consider myself as the cherry on top! Ha ha! I come in at the end and do a walk through throughout the garden and inside of the home to see where else greenery is needed. It's crazy how popular house plants have become and believe it or not, every project always needs some pots to create layers around the garden or to soften sharp angles and balconies. Working for Jones Landscapes has been very eye opening, a great learning experience and has brought me many new opportunities!
2. Where do you get your inspiration? What's your design philosophy?
When I first started out in this industry I definitely was scared that I wasn't going to have the right eye for garden design, so I had to searched for inspiration to help me decide what looks best. Now that I have the confidence to pick and choose what I believe looks best but also keeping my client's style in mind- some clients are very traditional where others prefer to get funky. I find my inspiration in many different ways- the biggest influence would be my dad and his eye for great design, driving around cool neighbourhoods like Venice or Palm Springs, design magazines (Dwell, Sunset, Domino etc.) and obviously social media- Instagram in particular. My design philosophy is to meet every one of my client's needs but to exceed their expectations by thinking outside of the box and being inventive!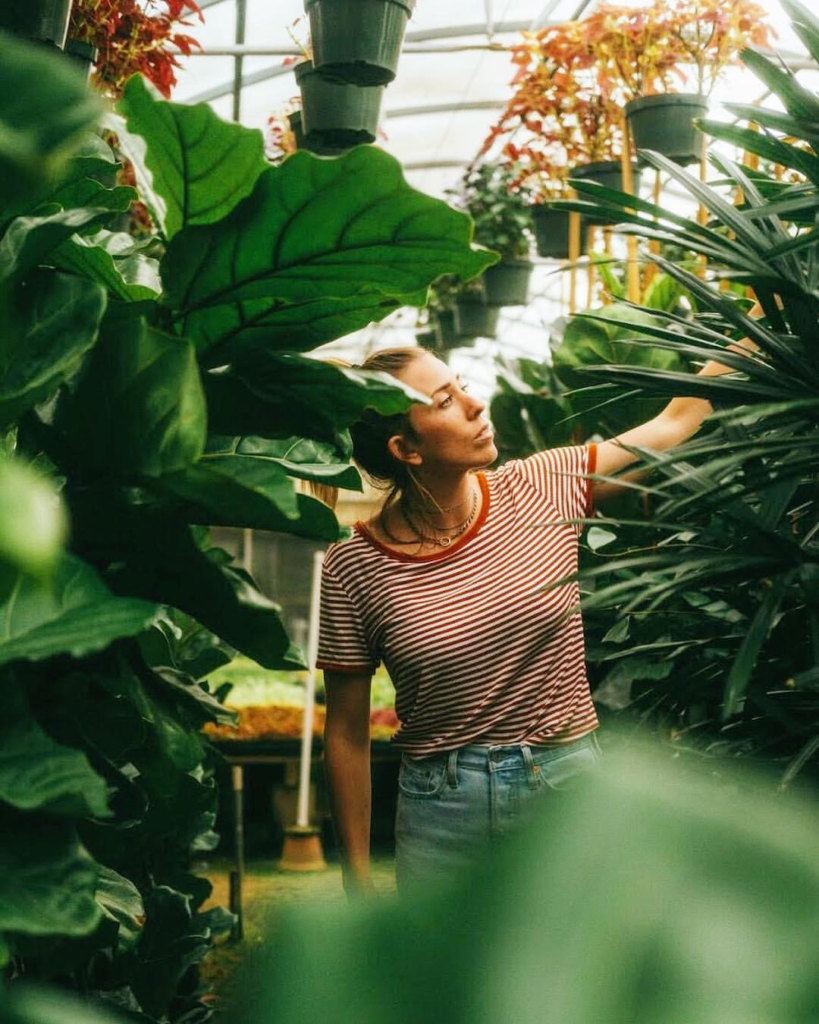 3. Tell us about a project you particularly enjoyed
I truly enjoy every project that I work on since they're all so different but one of my favorite projects that I enjoyed was a small backyard that I designed for a client. I had a small budget, limited space and only so much sunlight. We planted a hedge around the yard for privacy, lush planting throughout with gravel and stepping stones up to four concrete slabs with pebbles in between to make a patio, and a low bowl water feature to complete this quaint garden.
4. What are your tips for making a house feel more like a home?
Bring the outside inside AND you can never have too many plants! Well, maybe you can but I'm all for lots of greenery all around your home whether it's a tall tree in the corner, a potted orchid on a credenza, fresh cut flowers or leaves on a bookshelf or a chic centerpiece on your dining room table- add greenery to make your home a bit more magical and inviting! Besides, they keep your home environment healthy!
5. When it comes to styling, what are some of your favorite plant combinations? 
Oh gosh! My plant combinations are constantly changing, especially outdoors since I have more freedom. For outdoor plants right now, I prefer super simple, one plant in a pot and pebbles placed around or one plant and a ground cover beneath- to name a few (common names to make it easy):a Ponytail Palm and Sedum Blue Tears, a Foxtail Agave with String-of-pearls or Silver Teaspoons with Purple Wandering Jew. Then when I want to funk it up a bit I'll add more plants into a pot (here's one variation I've done): Dragon Tree with Aeonium Black Roses, dwarf philodendron xanadus, Echeveria 'Pulv-oliver', Sedum Blue Tears and String-of-pearls draping down the pot. Lately, I've been really into planting with different shades of greens and playing with textures like mediterranean fan palms, mexican fence post cacti, madagascar palms, asparagus ferns, agave 'blue glow', green aeoniums and mother-in-law's tongue (snake plant).
For indoors, depending on the lighting of the home I may use a Fiddle Leaf Fig, Rubber Tree, Dracaena Marginata, Cactus, Money Tree, and an Audrey Ficus or Triangularis depending on if I can find one.
For my arrangements, I like to get funky and keep it chic! My favorite colorful arrangement that I've made was about 50 Moon Cacti in a sleek modern rectangular pot with crushed white rock to top it off. I've seen people make arrangements with the Moon Cacti but I've never seen anyone make the one I designed so I like to say it's my signature piece! My other favorite arrangements that I make include mini ferns, cacti and succulents- I love incorporating different varieties and textures of plants but since they're all on a different watering schedule you need to be willing to have a more of a 'high-maintenance" arrangement and care for each variety of plant differently. I actually don't really see many people making centerpieces with cacti and ferns the way I do either.
From time to time, I'll see an arrangement or certain plants styled together that I want to keep in mind for a future job but I kind of just get my inspiration as I'm at the nursery and I place plants together and I choose what I think looks best. I'm definitely into quirky and uncommon plants at the moment. I get tired of seeing the same plants over and over again so I'm always looking for something I don't use often or are hard to come by! It's funny how plants have become such a trend, rightfully so, but I always want to incorporate the popular plant with a plant that isn't on Google's "Ten Most Popular House Plants."
6. What other designers/architects/creative people/firms are you inspired by at the moment?
It seems like almost everyday someone is showing me some new designer I've never heard of or a cool Instagram account I need to follow. I'm amazed at how many incredibly talented people there are on this earth! I feel like sometimes we get caught up in this industry though (like any other) trying to be the best and the most original, which isn't bad; it will push you to be better at what you do. But I am a firm believer at complimenting designers who do great work, collaborating with other plant enthusiasts, and always reminding yourself that there's room for everyone- I've encountered others who don't seem to like me when they find out I do the same thing as them, whereas I love making new friends who are interested in the same thing as me and we can bounce back ideas and help each other out.
There are so many designers and creative people that I look up to but, I'm going to keep this list local to the LA area- one of my favorite Interior Designers is Lynn Pepe – her style is edgy yet timeless. Two architect firms that have me blown away recently are Laney LA, Inc. (@laneylainc) and Ras-a Studio (@ras_a.studio)- they both design very differently but each of their work is exceptional. My lovely Hawaiian friend Leilani (@leisbyleilani)- she is an award winning Lei maker in Los Angeles and her work is stunning. Danielle Page (@yodanigirl), a new friend of mine who dove right into the floral world two years ago and hasn't looked back since- her floral arrangements are lively and oh so pretty. Lastly, my "Insta friend" Audrey Garcia (@plantgroundbloom), we found each other on Instagram and connected but have coincidentally bumped into each other at a couple nurseries..not surprising! I love that she's a passionate landscape designer as well as a sweet mama- always making time for her son as well as teaching him about nature and her love for plants. She gets me excited for when I have kids and all the things I'll get to show and teach them… gotta keep the plant life in the family!
Did you enjoy this interview? Leave a comment below with your favorite part!